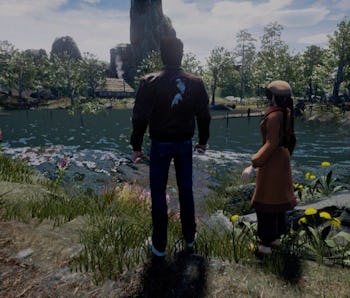 Gaming
Where Are We with 'Shenmue III', Exactly?
Just another year and a half to go until the journey of 'Shenmue' continues.
Ys Net
The one year anniversary of the announcement for Shenmue III was a little under a month ago, but all that walking in Pokémon Go makes one wonder when you can aimlessly wander Yu Suzuki's three-quel to his Dreamcast games. So, it's time for a status update.
The game isn't slated for release until December 2017 for PC and PlayStation 4, but last month, the game's developers posted a brief video to keep everyone in-the-know regarding progress.
In it, Suzuki says his team began using models from Shenmue II for various tests in Unreal Engine 4. Since it apparently worked, they started the prototype build in January.
A little further back, Kickstarter contributors received a few screenshots provided by the development team. At a modest resolution, the pictures aren't exactly dazzling, but they're still picturesque and show exactly how Shenmue is looking in the new gaming generation.
Two words: bloom effects!
Then, just a teeny bit before that, the game's YouTube channel uploaded a quick tour through a hut in Bailu Village, the remote rural Chinese village Shenmue fans ended their journey in 14 years ago.
It hasn't been a smooth journey for Shenmue III, at least on the publicity front. Just days after its record-breaking Kickstarter campaign, the project's intended budget, as well as its sources — namely, just how much Sony was investing in the game — was never made clear, forcing Suzuki to provide an official statement in which he apologized for "not having been more forthright."
"I can say that with [Sony's] assistance on the production and marketing end, and in Sony's case with some publishing support as well, Ys Net is able to use more of the money we collect through Kickstarter purely for Shenmue 3's "development," Suzuki wrote. "It is also important to note that your funds are going strictly to Ys Net for development of Shenmue 3 – Sony and Shibuya Productions are not seeing a cent of your Kickstarter dollars."
In an October 2015 interview with Eurogamer, Suzuki clarified Sony and Shibuya Productions are indeed funding the game, though Suzuki hinted the project's budget is significantly lower than either 1999's Shenmue (around $47 million including marketing) or 2002's Shenmue II (nowhere near that much).
"I could do with a bit more money!" he told Eurogamer. "The game itself doesn't have to be gorgeous visually - a lot of the money these days goes into the graphics. If we perhaps compromise on the graphics and put more into the story, we can make a good game. The most important thing, to me, is that the game's interesting, and that it's something people want to play."
Shenmue III went on to raise a total north of $6.3 million in its record-breaking campaign last summer. A slacker campaign quickly followed, although it was decided in February 2016 (through community voting) that contributors to the slacker campaign would not receive rewards offered in the initial campaign. So it sucks if anyone missed out on getting Ryo Hazuki's jacket (offered with a single $10,000 contribution), but they should have acted sooner.
Additional screenshots have been posted throughout the game's development in the last year, so you can drool at them until December 2017 when the game is actually a reality.