11 of the Best '70s and '80s Movie References in 'Stranger Things'
11 is a pretty great number.����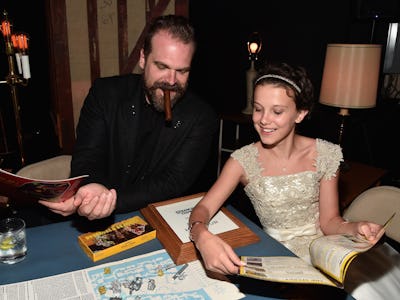 Getty Images / Alberto E. Rodriguez
Netflix has worked magic once again with its latest series, Stranger Things a thriller/adventure set decades ago, It's everything great about Spielberg's childhood-reminiscent films with the haunting twists and turns of Alien and Twin Peaks. Stranger Things has a knack for making viewers feel secure in their nostalgia just in time to hit them with a huge, devastating realization — or a fun jump scare.
The influence stretches far and beyond the film's story and cinematography: looking just a bit closer (through the lenses of a die-hard film fan) reveals a number of Easter eggs on set, in the way shots are framed, or during moments of dialogue. Filmmaker and fan Ulysse Thevenon did the hard work first, so before we go any further, here's a complete run down of every film reference in Stranger Things:
Anyone else wake up with that song uncomfortably stuck in their head?
11. Stand By Me
The iconic shot of the boys in Stand By Me making their way down the local train tracks is mirrored eerily in Stranger Things, as the show's young group of heroes assists Eleven in order to find their lost friend, Will.
10. The Goonies
The series has hundreds of visual references to The Goonies, but its perhaps the dangerous threats between older bullies and their victims of choice that reflect it so distinctly.
9. Commando
Time to suit up and find Will Byers. As Lucas (Caleb McLaughlin) prepares to leave home in search of his friend, his distinct method of preparation reflects a gritty pre-fight scene from Commando.
8. E.T. The Extra Terrestrial
There are countless similarities between the feats of Eleven and E.T., but one of the most iconic is the calm, spur of the moment decisions made by the two superpower beings in dire situations. Granted, E.T. seems to be a bit more of a pacifist than Eleven.
7. Carrie
Carrie wasn't necessarily the first to pull a jump scare centered on a bloodied hand jutting outwards to the protagonist, but it sure was one of the freakiest. Here, we see that same method used in Stranger Things.
6. Explorers
Walkie-Talkies were not only a popular item for kids in the '80s - they were also a recurring theme in films about kids back then, too. Just like Carrie, Explorers wasn't the first to use this, but the consistent use of the age-old communication devices is worth noting.
5. A Nightmare on Elm Street
When walls cease to be walls and instead become breakable prisons for your greatest nightmares, you have A Nightmare on Elm Street to thank for the visual. In Stranger Things, the Byers family home betrays its own structure to bring this scare to life again.
4. Firestarter
You'd think by now that scientists would have learned their lessons about messing with little girls who have inhuman powers. They have not.
3. The Goonies (Again)
Another Goonies reference is a walking, talking character. Barbara Holland (played by Shannon Purser), who seems to be a reference to Stef, played by The Real O'Neals' Martha Plimpton.
2. E.T. The Extra Terrestrial (Again)
Another great reference to E.T. comes in the form of shots that set up the entire series, as Will takes off for his shed and prepares to defend himself against his monstrous attacker.
1. Alien
One of a few references to Alien sees the use of flashlights and protective gear, as the heroes of Stranger Things finally discover where Will has been this whole time.
The first season of Stranger Things is steaming on Netflix now.