Twitter Growth Is Nearly Flat in 2016
"We believe we can drive improved engagement and audience growth over time," writes CEO Jack Dorsey.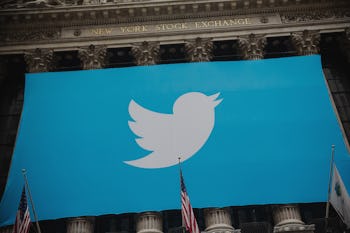 Getty Images / Andrew Burton
Twitter growth continues to stagnate, the social media company reported on Tuesday.
In its letter to shareholders uploaded ahead of its investor conference call, Twitter revealed that its number of average monthly users in the second quarter of 2016 was 313 million worldwide (up just 3 percent from the same time last year). That's a slight increase from 310 million in Q1 of 2016, and 305 million in Q4 of 2015. It's important to note, though, that's what analysts expected in terms of growth.
Sixty-six million of those monthly average users were in the United States, just a 1 percent increase from the same time last year. Outside the United States, Twitter had 247 million monthly average users last quarter, up 4 percent from the previous year, and up from 245 million during the first quarter of 2016.
This is bad news for investors who look for growth percentages that are much higher. To look at it another way, a recent analysis of Twitter (founded in 2006) found that it has about 140 million daily active users, while Snapchat (founded in 2012) has 150 million daily users.
"We are seeing the direct benefit of recent product changes, and with disciplined execution, we believe we can drive improved engagement and audience growth over time," writes Twitter co-founder and CEO Jack Dorsey, in the letter (embedded below), which also outlines various new services and products for the company.
Twitter also saw revenue of $602 million and a profit of 13 cents a share in the second quarter. The bad news: Stock analysts were predicting profits of 10 cents a share revenue of $607 million.
Meanwhile, Twitter's official investor relations account, @twitterir, was very active on Tuesday, sharing more than 30 tweets about the company's various products and plans.