Pokemon Go Fans Cash In With Bootleg Comic-Con Gear
The insanely popular game has sprouted a cottage industry of unofficial merch.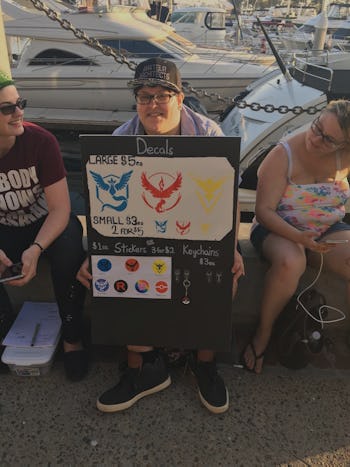 At the annual nerdy masquerade ball of a shopping mall that is San Diego Comic-Con, where vendors gather to sell rare, exclusive, and fully licensed pop culture totems to rabid fans, the hottest craze this year was knockoff DIY apparel dealt on boardwalks and side streets, far away from the main convention hall.
Pokémon Go has been such a surprise hit for Nintendo and Niantic, the game's two developers, that it's been all they can do to simply keep the servers from crashing under the weight of the incredible demand. Their original plan for Comic-Con — a panel discussion in a small meeting room — was quickly upgraded into a full-fledged presentation at the massive Hall H, to accommodate the crush of RSVPs. Though Nintendo did have a large off-site lounge for gamers, there was little sign of merchandise available for fans who prefer to wear their obsessions on their sleeves (and chests, faces, and heads), which was just as well: Into that vacuum stepped some entrepreneurial Pokémon trainers, who set up shop across San Diego over the last five days.
Their offerings were modest, but still bought up with great enthusiasm. For the most part, these opportunistic gamers were dealing homemade t-shirts, hats, and accessories, which usually bore the avian symbols for the game's three teams: Valor (a red, flame-like design), Instinct (yellow, with a jagged, electric outline), and Mystic (blue and fluid). Anything upon which you could stick a logo became an opportunity to make a buck; Pokémon players have always identified intimately with their chosen teams, a trend that continues, even though there's not a single difference between the squads in Pokemon Go.
Kian, a long-time Pokémon player who drove down from Irvine, camped out with a few friends on the boardwalk behind the convention center on Saturday, waiting for a large gathering of gamers who had organized a meetup on Facebook. When some of the hundreds of fans that had RSVP'd began to arrive, many immediately gravitated toward Kian's posse and the huge trash bag of homemade hats that the crew had lugged down the California coast.
"I just started printing them for my friends last week, maybe a week and a half ago," Kian told Inverse. "I just thought it'd be a cool way to identify other people who are playing, and find people who are on your team…. I basically make them at my house, with my whole family. I had to figure [how to make them] out. It's been hard and I've burned myself a lot and spent a lot of money that I don't have."
The brisk sales made the pain of singed fingers well worth it. The hats they were dealing had a special hook: Trucker caps with the assorted logo on the front, they resembled updated versions of the cap that hero Ash Ketchum wore in the Pokemon anime. For some fans, the hat's $15 price tag was a small price to pay to top off Ash's vest and glove cosplay uniform that they were already wearing.
A perennial favorite for gamers and nostalgists, Pokémon has always been an inspiration for elaborate costumes at Comic-Con, but there was a noticeable uptick in the number of people dressing like the characters from the beloved cartoon. Fans across the board dressed as Ash, and many women opted to go as Misty, his traveling trainer companion. There was also no shortage of those dressed as members of Team Rocket, the slapstick antagonists of the long-running TV series and game.
Further north in the city, at the gorgeous Balboa Park, an even larger group of gamers gathered on Saturday morning to let the sun shine down on their heads as they stared at their cell phones and chased after the wiley digital monsters. With thousands of people RSVP'd, it was a more local event, with families and vaping teenagers alike walking around the main drag of museums and cultural auditoriums. When they weren't chanting in support of their various teams, they passed along the rumor that there was a Dragonite — an especially rare Pokémon — lurking around the park's big fountain.
There were a lot of long-time Pokémon players, who welcomed the opportunity to have their hobby back in the spotlight, and convince either lapsed or first-time gamers to get on the trail. Some joked that it was the first thing to get them out of their house, though their pallid complexions suggested their laughter didn't mean they were lying.
A pair of sales reps from a phone charger company were on hand (both in costume, one in a Pikachu onesie) to offer up some extra juice for dedicated gamers, and drew quite the crowd in one far corner of the park. More subdued in its sales pitch was a young family of five, which was quietly trying to sell homemade Valor, Instinct and Mystic buttons and decals as a fundraiser for the eldest daughter's upcoming class trip to Washington, DC.
Their father, John, was delighted by the game, since it got his kids out of the house. That, obviously, was a common theme, and some people took it to the extreme.
Alan and Victoria, Twitch streamers from the channel SeriousGaming, have been on the hunt since the game came out earlier in July, broadcasting their outings via a Baby Bjorn-like cell phone harness strapped across Victoria's chest. Thus far, they said, the channel has seen an uptick in viewers, up to 50,000 viewers per day. And there's been no shortage of programming to keep the new fans entertained; Alan and Victoria have kept an exhausting, relentless schedule, with broadcasts running 12-14 hours per day and upwards of 125 miles traveled on foot.
"A lot of people are watching," Alan said. "A lot of people who want to see the game because it was new and to see outdoors, rather than you sitting in your house playing games all day."
He had just eight Pokémon left to catch on his adventure, which is supported by fan donations and sponsors, and wasn't all that enthusiastic on the game's future, at least unless Nintendo and Niantic upgraded many of its glitchy functions and offered more iterations of Pokemon.
More bullish on Pokemon Go's long-term viability, and much more comfortable and relaxed in their quest to catch 'em all, were the proprietors of the PokéBus. A converted mini-bus/tour van with a bright decal on either side, the bus was making its way around San Diego, charging gamers $10 (or $20 for a full days trip) for a chauffeured tour of all the town's Pokestops and Gyms.
No customers were on the bus when Inverse flagged it down in front of the convention hall on Saturday afternoon, but Joseph Poliquin, the co-founder of the company, said they had been rented out for the entire day on Friday by the guys in Smosh, the popular YouTube comedy team. Poliquin, a Baton Rouge-based actor who has appeared in bit parts in American Horror Story: Freak Show and the new HBO comedy Vice Principals, pitched the opportunity to franchise out a van like he was the Ray Croc of geeks, calling the chance to buy a van, slap a big sticker on its side and give him a solid portion of your profits an "amazing business plan."
"We own the LLC to PokéBus, this is our brand, so if you see PokeBus anywhere, they're either already working for us or they will pretty soon, he said. Right now we have four buses: Hollywood, Baton Rouge, and now San Diego. Were going to have ten in Hollywood next month, and a few others are popping up in New York and New Hampshire, for some reason."
Poliquin figures that the craze has legs, with at least two to three more years of huge enthusiasm and profitable bus trips (he emphasizes that adults can bring booze on board to turn them into party buses, too). His franchisees better hope so, because they're entering quite a commitment, unless they already happen to own such a vehicle.
For most of the Poke-vendors, Comic-Con was more about making some quick, cash while connecting with fans; the place was swarming with people wearing both old, licensed gear and the new, bootleg stuff, heralding a new era in Pokemon and a win for the fans at a place that is, more and more, geared toward catching all their cash.