'Sherlock' Season 4 Trailer Sees the Return of Moriarty ... Maybe
A look at the dark new season.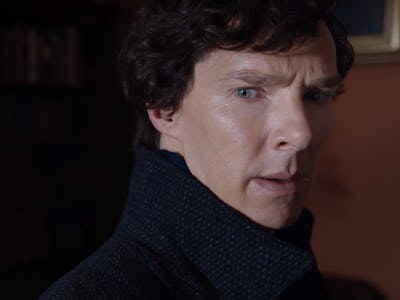 BBC
BBC's popular take on Sir Arthur Conan Doyle's detective Sherlock finally dropped a Season 4 teaser. While the creative team behind the show has been teasing a "dark" season for some time, the teaser shows off incredibly tense and even downright creepy moments for Benedict Cumberbatch's detective.
The teaser opens with a brief snippet of Sherlock's longtime nemesis, Jim Moriarty (Andrew Scott), in what appears to be a video playback. Though Moriarty's return is left ambiguous, the teaser gives viewers a clear look at Season 4's official villain played manically by Toby Jones.
While there's no official word on which Conan Doyle story Season 4 will adapt, speculation is heavy that it will be the "The Dying Detective" which implies Jones will play Culverton Smith. Smith is an expert in illnesses and diseases who infects Sherlock with a deadly virus that slowly kills him. While this is all just rumored at this point, Jones appears to be having a great time, cackling throughout the trailer, presumably because of something evil.
Showrunner Steven Moffat has been dropping the fact that Season 4 will be very dark, and a visibly worried Sherlock, Watson, and Mycroft creates an uneasy tone for the teaser. Audiences are expecting some heavy consequences, including the possible deaths of some important characters for the upcoming season.
There is no release date yet, other than the 2017 year date at the end of the teaser.