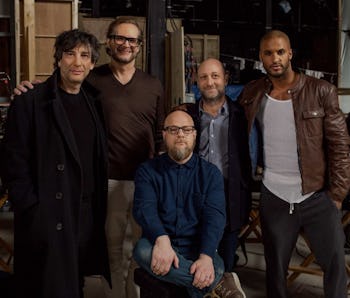 Entertainment
Starz's 'American Gods' Debuts First Teaser at Comic-Con
The TV series is based on a highly acclaimed novel by Neil Gaiman.
Starz
After years and years of wondering whether or not Bryan Fuller's American Gods would come to fruition, the day has finally arrived. The first teaser trailer for the new Starz TV series aired today at San Diego Comic- Con to a crowd of adoring, and very patient fans. Fuller, along with new star Kristin Chenoweth, took the Comic Con stage today to talk about the upcoming show.
The trailer debuted first to an eager crowd of fans before hitting Facebook, giving us a first look at real-life interpretations of characters who have remained quiet icons – as belief in the old gods begins to wane. American Gods has been a back and forth process for years: first, HBO was in line to pick up the series, but plans fell through and the radio went silent until 2014, when Starz acquired the series. They placed Fuller and Michael Green in charge of the show's development.
The show's cast is packed with Fuller favorites and a few other surprises. Ricky Whittle leads the cast as Shadow Moon with Ian McShane as Mr. Wednesday. Kristin Chenoweth of Pushing Daisies and Wicked fame (just to name a few) confirmed today that she'll be playing Easter. Gillian Anderson, Pablo Schreiber, Yetide Badaki, and Bruce Langley round out the cast.
American Gods is expected to debut in 2017 on Starz.