'The Walking Dead' Season 7 Comic-Con Trailer Roars with Ezekial
"You earn what you take."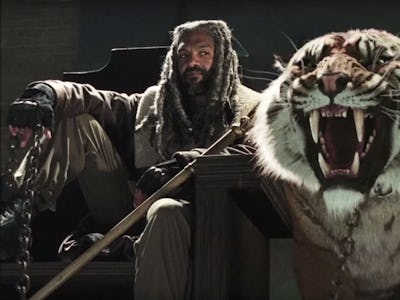 YouTube.com/AMC
It's a brand new day in the world of AMC's The Walking Dead, which returns for its seventh season on October 23. While the trailer for the hit zombie series from San Diego Comic-Con annoyingly does not reveal Negan's (played wonderfully by Jeffrey Dean Morgan) finale victim, the trailer is loaded with new footage and mayhem, and introduces Ezekiel with his ferocious pet tiger. Indeed, this isn't The Walking Dead of yesteryear.
The trailer begins with a touching montage of the past six seasons, as if the anticipation for the demise of — well, whoever— wasn't enough. With its seventh year dawning, it's almost remarkable just how far The Walking Dead has come. Remember when Norman Reedus's Daryl had short hair? Kinda nuts.
Some of the new footage has Saviors kneeling at the presence of Negan, who casually walks with Lucille, his barbed-wire bat hoisted on his shoulder, like it's just a normal Tuesday.
Other new footage includes armed soldiers from the Kingdom, the compound overlooked by Ezekiel, who appears in the trailer in all this glory.
The Walking Dead returns for its seventh season on October 23.