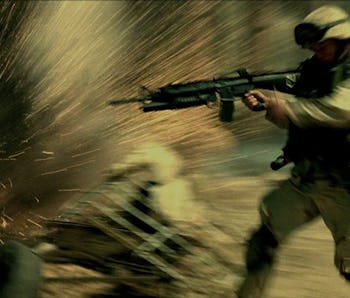 Gaming
The Military Invades Comic-Con, Selling Authenticity in Cosplay Land
Free weapons come with a price.
As Comic-Con attendees dragged their flimsy DIY toy weapons through the crowded halls of the San Diego Convention Center to project their fantasies, the men who wield the world's mightiest arsenal were tucked away in a conference room upstairs.
On the other side of the convention center, out of sight even for the fans who wandered far afield looking for their favorite comic creators, room 29B played host on Thursday to a very unique panel: The Department of Defense and the Department of Homeland Security in the Entertainment Industry. During a nearly hour-long presentation and chat, five representatives of the U.S. Armed Forces explained their vital mission to a surprisingly full room of convention-goers.
Simply put, their goal is to accurately and favorably insert the military into various pop-culture platforms, creating good will toward the strongest single force humanity has ever known. And what they offer — free access to expertise, soldiers, and sometimes even gigantic warships — has long made them very popular people in an industry always desperate to use whatever means necessary to impress an audience.
"We have the honor to be able to try to tell the Navy's story through the lens that you bring to us: feature films, television series, documentaries, special events, game shows," Capt. Russell Coons, director of U.S. Navy Info-West, told the gathered audience. "We work together as partners to try to build a narrative into a script that can then be demonstrated by our fast attack submarines, our cruisers, our hero squadrons, our SEALS, the various communities you see represented in these big films. We like to have our real operators in real time, doing their jobs in the background, so you can bring your talent in the foreground."
Added Lt. Col. Tim Hyde, of the U.S. Army: "We don't provide locations just to provide locations, there has to be something in it for the service that is being represented."
Though most casual moviegoers and audience members at home might not be aware of the close working relationship between Hollywood and the military, none of this is actually news; the war machine has long been in the business of winning the hearts and minds of citizens back home, and a quid pro quo with the entertainment industry is a main component of that never-ending campaign.
In fact, the military has had a major hand in what ends up on screens, big and small, since the inception of film; the first Oscar-winner, Wings, was made with major assistance from the Air Force. Today, the military not only helps make movies and TV shows that have explicit military subject matter, but also give big help — and big cost savings — to projects if they can include a positive depiction of the armed forces.
"Michael Bay drags our butts all the way over to his screening room and he says, 'I want Optimus Prime to stand on the flight deck right here and to reach out and snag you,'" Coons told Inverse after the panel. "We say, 'Really?' Well whatever, as long as we have a chance to show honor, courage and integrity. We know were going to fight and die, but we're going to fight and die with honor."
It also helps if films enter an official Production Assistance Agreement with the military, meaning the Department of Defense has final approval of how it is depicted, and can request changes to any final cut of the project.
Cooperation with major blockbuster films and both scripted and unscripted television — the panel was hosted by the executive producer of Deadliest Catch — is a prime way that the military gets its intended message out to young potential recruits but the fractured evolution of the media is making their mission more difficult.
"We are having a really hard time communicating with 18-24 year olds," Coons admitted. "We are not communicating well with them in the venues we have. They're not watching The Weather Channel's Great Rescues that the Coast Guard does, which is a fantastic show, but they're on Hulu. The 20-somethings in my office don't have cable or satellite anymore. We need your help to reach these new audiences with these your ideas."
The room had a healthy number of video game developers itching to speak with the representatives. One they had little chance of making headway with, though, was Lt. Col. Timothy Hyde, the public affairs officer who reported that the Army had a moratorium on working with video games.
"There was an instance with a video game in the past. We were participating in it but there were some other aspects in the game that did not uphold the Army's core values," Hyde – who settled into his current role a year ago and said the incident took place before his time – explained. "So once the game came out, we saw that and said we need to take a step back and see how we're going to go about supporting video games, if we're going to be supporting them. The final decision hasn't been made yet."