Comic Con Reacts to a Special Screening of 'Snowden' 
At a special screening Thursday evening, fans got a first-look at the upcoming film.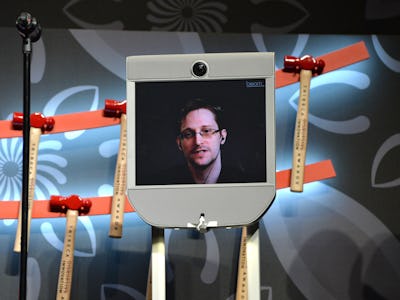 Getty Images / Slaven Vlasic
The story of Edward Snowden is long, rocky, and not always considered a legacy by his critics. Now, a different set of judges are evaluating the controversial "whistle-blower" – the fans at San Diego Comic Con.
Today, at a special screening during the convention, Oliver Stone introduced the film after a pre-screening panel. Starring Joseph Gordon Levitt (along with big names like Shailene Woodley, Nicholas Cage, Scott Eastwood, and Zachary Quinto), the film is described as a "biographical political thriller" and first began filming in February of 2015.
As the movie let out, fans began posting their reflections on Twitter, with a few interesting observations:
Meanwhile, those not at the con tweeted out reactions to the film's trailer, eager for the movie and unable to contain their excitement:
But still, certain Twitter users were skeptical — and critics were harsh:
Others were simply confused about the choice to premiere the trailer – and the film – at Comic-Con.
After the screening, the audience was treated to a special interview with Edward Snowden himself, via webcam, right at the convention.
Attendees live-tweeted the interview as Snowden phoned in from Moscow:
The screening comes a little over two months before the film's official premiere. While Snowden's critics seem unhappy about its release, the movie is still steadfast and ready for its September 16 release.