New 'Suicide Squad' Clip Gives an Extended Look At The Joker 
A new trailer gives us a closer look at Jared Leto's Joker.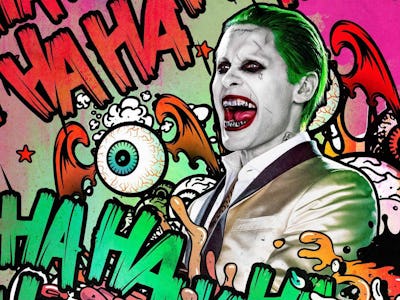 A new Suicide Squad character trailer shines a light on Jared Leto's Joker.
Most of the footage is repeated material from the previous clips, but there are a few tidbits of new information. We get a closer look at his grille, we see him share a kiss with Margot Robbie's Harley Quinn — with whom he is apparently engaged in a love triangle, though we don't see him kiss Deadshot — and we witness him employing his unique brand of mind-fuckery on Ike Barinholtz's (The Mindy Project, Neighbors) character, who is a Belle Reve Federal Penitentiary prison guard.
All in all, if you're disappointed that he seems like a pale imitation of Health Ledger's Joker with a Juggalo spin, that probably won't change, here. On the other hand, if you're psyched about Leto's take on the Joker, that also won't change.
Let's hope Jared Leto's Method stint as the World's Worst Coworker is worth it.