Mr. Robot VR Experience Takes You on Elliot's First Date
Shayla is back! And, uh, it gets awkward.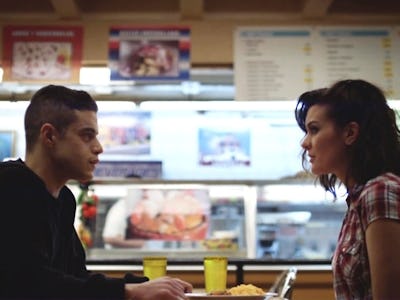 USA
Elliot Alderson isn't very good at dating. One of the few bright points in his life was his relationship with Shayla, his drug dealer and erstwhile girlfriend who was brutally murdered by another dealer in the latter half of Season One of USA's hit show Mr. Robot. During San Diego Comic Con today, creator Sam Esmail and the Within VR app simulcast a 12-minute exclusive experience, which took viewers into Elliot's memories as a fly on the wall for his first date with Shayla.
While Mr. Robot's turn toward romantic comedy territory may seem a little unorthodox, Elliot and Shayla's first date wasn't exactly a quirky-fun experience — mostly because Elliot suffers from some extremely severe personality disorders, which usually manifest as "being a gigantic asshole."
The experience put you in a room, watching Elliot smoke a joint on his couch, turning and speaking to the viewer, letting his internal monologue run. He's reluctant, paranoid, fearful, and excited. He's panicking. And then Shayla walks in.
We haven't seen Shayla, played compassionately by Frankie Shaw, since her death at the hands of the vicious drug dealer Fernando Vera in the first season's sixth episode. The VR experience is a vivid, bitter-sweet trip into Elliot's memories. While it starts in the depressing confines of Elliot's apartment, Shayla opens a curtain, flooding the room with light. Shayla takes Elliot to Coney Island. They ride the Ferris wheel, seated in the front of the car, with the viewer in the back, a 360-view of the pier and the ocean around them. Elliot hates it, sunk into his trademark black hoodie.
"You're just my drug dealer, nothing more," he says.
Shayla turns slightly toward the camera, palpably hurt. Elliot's internal monologue takes off as he realizes what an asshole he is. The Ferris wheel car swings slightly. The experience has a few moments like this, where watching feels both voyeuristic and uncomfortable. While a lot of the dialogue and story structure — it's only 12 minutes — is a bit cliché, as a whole, it's a startling way to experience Elliot's world.
For users that weren't at the convention in San Diego, the entire thing was simulcast through the Within VR app. In true hacker fashion, the whole experience was broadcast out simultaneously, and then disappeared from the web. It'll be re uploaded next week, but until then, the live broadcast was the only chance to step inside the twisted world of mentally-ill hacker-extraordinaire Elliot Alderson. Within says that the simulcast was the "first nationally simulcast virtual reality experience," which, for the most part, is true. The experience went off smoothly, with no glitches or stutters on an iPhone 6 and Google Cardboard setup. Attendees at SDCC got free Cardboard setups during the simulcast.
If you missed the simulcast, you're shit outta luck for the next week, until USA uploads the whole thing to their website and the Within app. Either way, it's good to see Shayla again.
"Don't ever forget about me," Shayla says, as Elliot's memory fades. "It'd make me really sad if I was hard to remember."
The show's second season is off to a slow start, spending more time in Elliot's head than in the real world, but the show has surprised us before. And it's certainly hard to forget.