Knock-Offs Are Taking Over Amazon, and Major Brands Want Out
Birkenstock is the first major company to drop the world's largest online retailer.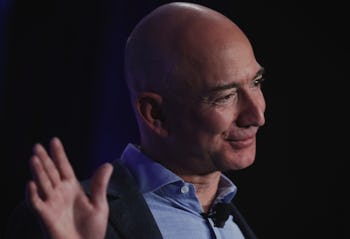 Getty Images / Alex Wong
Amazon is currently struggling to control a problem usually reserved for beat cops in major cities and customs agents: knock-off footwear.
After years of failing to capture the Chinese market, Amazon's renewed efforts to court Chinese manufacturers and sellers to its e-commerce marketplace is starting to work, but now these newcomers are undercutting U.S. companies with lower prices, counterfeit goods, and faked reviews, which is causing major brands to pull out of the world's largest online store.
This week CNBC obtained an internal memo from David Kahan, CEO of the German footwear company Birkenstock, which stated the sandal manufacturer will pull out from Amazon starting on Jan. 1, 2017. Birkenstock won't authorize third-party merchants to sell on the site either, despite the sandal's increased popularity in recent years.
The Amazon marketplace, which operates as an open market, creates an environment where we experience unacceptable business practices which we believe jeopardize our brand. This includes postings by sellers proven to have counterfeit Birkenstock products. It also includes a constant stream of unidentifiable unauthorized sellers who show a blatant disregard for our pricing policies. Policing this activity internally and in partnership with Amazon.com has proven impossible.
Birkenstock is just one of many companies complaining about Amazon's recent counterfeit problems. A 600-person Facebook group called "Who Stole My Images" is a snap shot of t-shirt and graphic designers who have seen their merchandise stolen and undercut by Chinese sellers.
Amazon opened a small store on Alibaba's Tmall.com and has generally increased its marketing and outreach efforts in the country in the past year, which has resulted in a flood of counterfeit products that have largely hit small business owners.
But these new Chinese sellers are also paying for fake reviews according to fakespot.com, which says these practices hurt consumer ability to make informed purchase decisions.
Birkenstock is the first example of a major company pulling out, which it can only do because it's privately owned and not beholden to stockholders, but it underscores a larger problem with the online retailer.