Tim Heidecker is Making an RNC Super Deluxe Special With Eric Andre
And you can watch their handiwork in real time. Here are some highlights.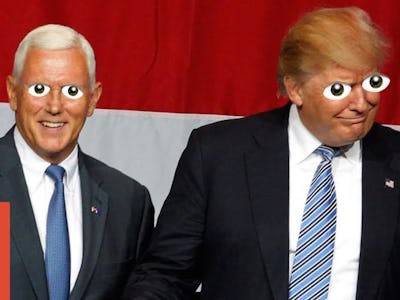 Super Deluxe
Reports have been trickling out about comedian and musician Tim Heidecker's exploits at the Republican National Convention, which he has infiltrated in his modest, but very particular way. His partner in crime is noted film editor and comedian Vic Berger, who works through the site Super Deluxe, and according to Heidecker, is set to cut together the "best of" whatever Heidecker comes up with into a series of videos, or perhaps a long-form special.
Berger seems to be editing his trademark bizarre recuts on the fly during their trip, in both short and long-form projects. If you don't know his work at Super Deluxe, you can at least recognize the pacing and aesthetic from Tim and Eric Awesome Show, Great Job!:
Here's Berger and Heidecker's announcement of their project:
The reports of the Heidecker/Super Deluxe exploits have been scattered, though there is evidence through social media with various levels of documentation:
Heidecker has been very active documenting the flocks outside of the hall in lengthy Facebook Live broadcasts.
One of the most widely reported stunts is Heidecker and Eric Andre, in sequined, Uncle Sam-themed dresses, dancing on the floor of the convention, before being escorted out:
Tim spent time among ralliers and protesters alike outside the conventional hall, mostly impersonating Infowars figurehead Alex Jones, and even interviewing a Awesome Show-esque Trump impersonator as Jones:
Meanwhile Eric Andre, possibly for Heidecker/Berger's project, harassed the real Alex Jones at one of his rallies:
Until the more organized Heidecker/Andre videos drop, you can enjoy some inspired Berger speech recuts, and whatever is posted to the #vicRNC hashtag. A cut of Rudy Giuliani's bellowing, Muslim-bashing speech is set to drop on Super Deluxe's page together, but for now we can enjoy his psychedelic cut/redub of Melania Trump's plagiarized platitude fest, and other Photoshop ephemera:
The content isn't going to stop anytime soon. Berger and Heidecker, in the interest of equal opportunity, have already announced a planned trip to Philadelphia for the DNC. In the meanwhile, follow Super Deluxe and the #vicRNC on social media to get updates.