Twitter Opens Verification Process to Everybody
Chase after the blue-circled checkmark yourself.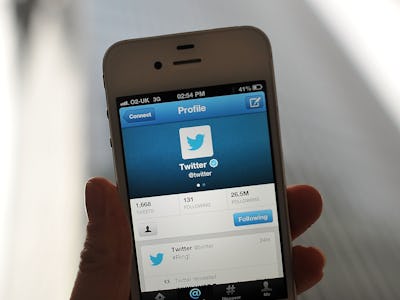 Getty Images / Bethany Clarke
Twitter started an application process to become a member of the exclusive, blue-check-marked verified account club, the platform announced today.
Verified accounts were previously determined by Twitter, and primarily consisted of government agencies, public figures, celebrities, journalists, and other accounts that might be fraudulently impersonated. The coveted verification tag was bestowed on anyone that Twitter "deemed of public interest," and distinguished such accounts as @DonaldTrump (not him) from @realDonaldTrump (of course it's actually him).
"We want to make it even easier for people to find creators and influencers on Twitter so it makes sense for us to let people apply for verification," says Tina Bhatnagar, Twitter's vice president of User Services. "We hope opening up this application process results in more people finding great, high-quality accounts to follow, and for these creators and influencers to connect with a broader audience."
Verification first started in 2009. It has frustrated many of the unchosen and spawned plenty of theories since. Around 187,000 accounts are verified, starting with government agencies like the Center for Disease Control and Prevention. Ostensibly, the verification means that the account is real and can be trusted. That trust can be easily abused, though, since verification doesn't block hackers.
Want to get verified? According to Twitter, you have a better chance if you are in "music, acting, fashion, government, politics, religion, journalism, media, sports, business, and other key interest areas." There is a number of things you'll need to give it a whirl, including a phone number, email, bio, profile pic, birthday, and website.
Visit verification.twitter.com to get started on your application.
You will also have to provide a valid reason why your account should be verified, and may have to send a scan of a government-issued ID. If you get denied, you can submit another request in 30 days. Twitter doesn't just pass out verified status like candy on Halloween.
Of course, this being Twitter, things aren't exactly going smoothly for everyone in the process (this was the greeting during an email verification attempt):
"If you've submitted a request and have not yet received an email from us," Twitter writes in an explainer, "we may be having trouble delivering it."
Apply away if you've got what it takes, just be careful not to fall down a Twitter rabbit hole chasing that blue-circled checkmark.