New PokeRadar App Will Show You Exactly Where Pokemon Are
Begone, three-step glitch!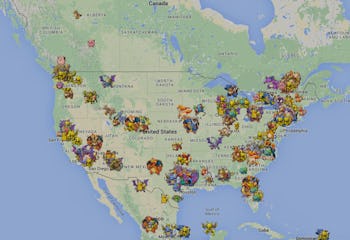 Now available in several countries worldwide, Pokémon Go has gone above and beyond expectations, delivering an engaging augmented reality experience that has prompted players to get outside and hit the pavement to catch 'em all. But no new game comes without glitches these days, and along with server issues slamming the game every other day, a few stand-out problems still remain to be resolved in future updates. One of the biggest is the three-step glitch: on the "nearby" tab, players are supposed to be able to determine how far away a creature is by how many paw prints display under their icon. But every so often, all nearby creatures will display three paw prints no matter what.
To combat this glitch (and the fact that it's hard to determine which types of Pokémon frequent which areas), an all-new app is using crowdsourced information to keep players up-to-date on where to find these hidden gems. It's called PokéRadar, and it's available now on iOS.
PokéRadar's functionality is simple, and could be essential for obsessed trainers. Upon opening the app, a map will display all of the Pokémon that have been found in the user's surrounding area. The app's most useful function is its dropdown search option, where players can specify which kind of Pokémon they want to catch, and the app will display all areas where it has most recently been seen. Users submit their tips on which creature they caught and when they caught it, then the app does the rest of the work.
The only real drawback to the crowdsourced aspect of the PokéRadar is that, in the age of the internet troll, it's possible that a user might plant a fake tip. The app's developers have put measures into place to combat that, giving users "rating systems" where others can upvote and downvote tips based on whether or not it worked. So, for the most part, it's just about staying vigilant before you speed off after a Dragonite (which has not yet been found in the wild, mind you).
Right now, the app is only available for iOS, but an Android version is expected to roll out soon.
Players are exploring their cities and towns in new ways thanks to the game. Some are reporting heartwarming experiences as they use the app to navigate toward famous landmarks in manners that might give Google Maps a run for its money.