NASA's SpaceX Launch Will Deliver DNA Sequencer and Heart Cells to ISS
"Results could advance study of heart disease."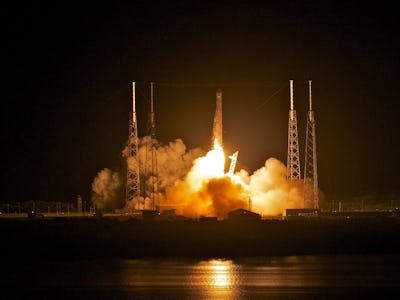 Getty Images / Roberto Gonzalez
On Monday, SpaceX will launch its ninth contact mission with NASA to resupply the International Space Station, and this time it's delivering a slew of new research technologies including a DNA Sequencer and the cultivation of human heart cells.
The launch of the SpaceX Falcon 9 rocket will take place Monday at 12:44 a.m. ET, taking off from Cape Canaveral Air Force Station in Florida. The rocket, filled with 5,000 pounds of science and research, crew supplies, and vehicle hardware, will arrive at the International Space Station and the Expedition 48 crew, two days later.
On Friday, NASA released details on exactly what would be going to the ISS and among those 5,000 pounds of supplies is a DNA Sequencer, which will be used to demonstrate for the first time whether DNA sequencing is feasible in orbital space.
"A space-based DNA sequencer could identify microbes, diagnose diseases and understand crew member health, and potentially help detect DNA-based life elsewhere in the solar system," NASA wrote in the preflight mission statement.
SpaceX will also transport a "Phase Change Heat Exchange," which NASA says will help regulate temperatures in space, where conditions can fluctuate greatly between extreme cold and hot. Phase changers do this by freezing and thawing special materials in order to maintain more constant temperatures that protect the crew and instruments on board. This new heat exchange will test a new material that NASA may be able to use aboard longer missions.
The ISS will also receive human heat cells that the crew will cultivate in order to study the effects that long exposure to space has on heart conditions. There's even a possibility the research could benefit our understanding of heart disease on Earth, which is the number one cause of death in the world and leading cause of death in the United States.
"Future exploration of the moon, asteroids or Mars will require long periods of space travel, which creates increased risk of health problems such as muscle atrophy, including possible atrophy of heart muscle," NASA writes. "Results could advance study of heart disease and the development of drugs and cell replacement therapy for future space missions and people with heart disease on Earth."
Monday's launch will be broadcast on NASA TV.