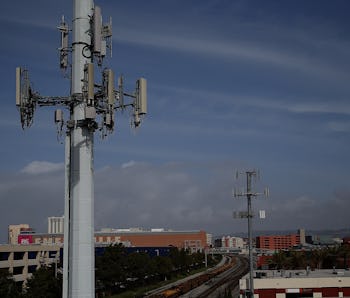 Innovation
What Does the FCC 5G Ruling Mean for You?
"It promises quantum leaps forward."
Getty Images / Justin Sullivan
I once thought my LG EnV with a 3G data connection was the best thing in the world. It had a full keyboard for quick texting and from time to time I could go on the internet to check up on MySpace. Then all my friends started getting phones with this new thing called 4G and my measly 3G connected phone was instantly exposed as the slow lifeless machine it truly was. I had seen the light and there was no going back.
In just a few years, consumers could have a very similar experience when phones start to switch from a 4G cellular connection to 5G, thanks in part to the FCC this week adopting new rules that will allow companies to build a faster cellular network.
Unfortunately, 5G networks aren't built yet, and the technology hasn't been perfected, but the FCC is preempting the move. One-third of the airwaves will be auctioned off to buyers such as Verizon, AT&T, Sprint, and T-Mobile who have all expressed interest in the technology, and the remainder will be shared equally.
"Without question, 5G is a national priority," FCC Chairman Tom Wheeler said in a statement. "The interconnected world of the future will be the result of decisions we make today."
4G, 5G, fly like a G6, what does all this mean for you? Well, internet is about to get really fast, at least 10-times faster and as much as 100-times faster, Wheeler said.
Yes, that means Facebook articles will load almost instantly, specifically within thousandths of a second. But, that kind of content already loads really fast, so you might not notice the difference between hundredths of a second and thousandths.
Normal consumers might most see improvement in video chat. No more lagging, no more lost connections, and probably more messaging apps integrating live video chat. We already see this a little bit when Snapchat introduced a little used feature that allows users to instantly start a video call with one another when they are both active in the app. At Google I/O this year the search engine company also introduced an app called Duo, which is a video chat service that attempts to get people communicating via video more.
Most of the time users initiate a video call when they are on wifi because it's a much more reliable connection and doesn't drain so much data. But one could imagine Apple's iMessage introducing an in-app live video chat service that lets users communicate while on the go.
Beyond consumer use, companies such as Google can reap the benefits with faster connections for smart cities. The Alphabet subsidiary Sidewalk Labs is already in talks with several cities to put in place electronic sensors across American cities that would record traffic flow in order to lessen the strain of worker's commutes. Companies are also looking into car infrastructure sensors that would help prevent car crashes and direct cars through intersections autonomously, and those technologies would very much benefit from the faster internet speeds.
But the technology needs to be developed first. Sprint was able to offer 5G connections at 4 Gbps at the Copa America soccer tournament in Philadelphia and Verizon recently completed 5G radio specifications that will allow it to test and validate the connections.
While there is progress, Wheeler says the first to-scale 5G networks won't be available until at least 2020.
"Fifth-generation, or 5G, connectivity will likely be more than an incremental evolutionary step forward in wireless technology," Wheeler says. "It promises quantum leaps forward."