The Pride Parade Marchers Are "Indestructible" in 'GTA V'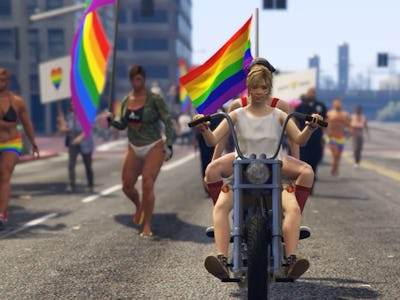 Los Santos Pride
Grand Theft Auto isn't known for being the most sensitive game on the market, what with the free rein to kill innocent pedestrians, the promotion of prostitution, and drunk driving. But Stockholm Pride, ahead of its own Scandinavian pride festival, has released a mod for the game that allows players to enjoy a virtual gay parade in Los Santos.
The gesture was meant in part to honor the victims of the LGBTQ nightclub in Orlando, Florida. The shooting took place in the early morning of June 12, at the Pulse nightclub and resulted in the death of 49 people and left 53 others wounded. Today, the FBI concluded there is no evidence the shooter was targeting the club specifically to hurt the gay community, although that does nothing to lessen the impact it has had.
Naturally, the release of the mod led to concern over whether users could go through and shoot up the parade, which is meant to be a celebration of the LGBTQ community. So the creators made these floats indestructible and its people invincible.
"We've made the parade indestructible. Not to moralize, but rather to show that love will always triumph over hate," says Christian Valtersson, president at Stockholm Pride.
However, without a copy of the game and no fan videos online of the mod, it's unclear if guns are still allowed in the mod and if they can be shot at all. We've reached out to Stockholm Pride for clarification on this point.
It's a wonderful gesture so long as mean-spirited players don't ruin it for the whole community.
"The message of love and equality is always needed and we are happy that players get to host their own Los Santos Pride Parade," Valtersson says.
Players are able to interact with the parade floats in various ways, and by the looks of the trailer, there will be a lot of sign and flag waving.
The mod is only available on PC and can be downloaded now. Stockholm's pride parade kicks off on July 25.