'Grand Theft Auto Online' Update 'Cunning Stunts' is All Structured Anarchy
Why did this take so long?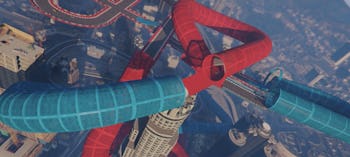 Rockstar Games
As of Tuesday, Rockstar Games' newest update for Grand Theft Auto Online, titled Cunning Stunts, is now available to players on all platforms. The update will add a brand-new slate of races to the multiplayer playground, each one designed to bring a shade of surrealism to the game.
Loops, tunnels with moving obstacles, and incredibly massive jumps are just a few of the offerings from this latest update of Grand Theft Auto Online, the multiplayer counterpart to Rockstar Games' enormously popular 2013 release, Grand Theft Auto V. In GTA Online, players can go head-to-head with up to 16 others in either an interactive, open world or a series of preset challenges that run the gamut from racing to player vs. player combat. Since the release of GTA Online, Rockstar Games has maintained a commitment to the world, continuously providing new gameplay and customization options while working to refine the overall experience.
With Cunning Stunts, Rockstar has really dropped a goodie. Every GTA veteran in existence has spent their free time roaring over the terrain in search of the biggest air or the most insane stunts; this update just allows you to do that alongside other players. It's simple, straightforward, and guaranteed to generate some pretty excellent videos over the next few weeks, so keep your eyes on reddit.