Ford and Others Invest $6.6 Million in Self-Driving 3D Mapping Company
The company claims it's better at crowd sourcing.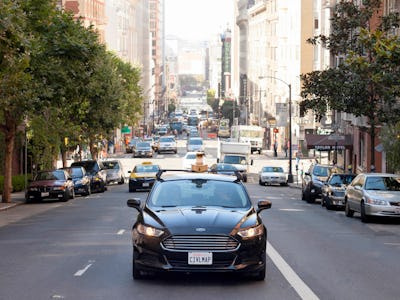 Business Wire
Ford Motor Company is among a group of investors that are backing Civil Maps, a California-based 3D mapping technology company that hopes to one day support autonomous car manufacturers.
Ford joins Wicklow Capital, StartX Stanford, and Yahoo co-founder Jerry Yang's AME Cloud Ventures with the $6.6 million investment.
Much like other tracking systems on the market, Civil Maps uses Lidar (Light Detection and Ranging) technology typically found on planes and satellites to map the road all around the vehicle. Using these cameras, the company constructs 3D maps that can be used and shared with other vehicles on the road.
Other systems do this same thing, but Civil Maps claims its data is "more actionable" and requires less data storage and transmission. The startup says this makes sending data over a cellular network less costly and allows for more and thus better crowd sourcing.
"Autonomous vehicles require a totally new kind of map," says Sravan Puttagunta, CEO of Civil Maps. "Civil Maps' scalable map generation process enables fully autonomous vehicles to drive like humans do – identifying on-road and off-road features even when they might be missing, deteriorated or hidden from view and letting a car know what it can expect along its route."
Systems such as MobileEye offer a simpler mono-camera accident protection system that attaches to existing vehicles and notifies drivers when an accident is possible, such as when a pedestrian walks into the road or when drivers are swerving out of their lane.
Civil Maps takes it a step further by integrating laser detection systems right into the car and using A.I. to learn from other vehicles on the road.
Ford has made significant investments in autonomous car technology, claiming it will have the technology ready by 2020. This year, the automaker also announced it is tripling its fleet of autonomous vehicles, which it claims makes its Fusion Hybrid fleet the largest among automakers today.