Chance the Rapper Wants You to Name His Ali Tribute
The song debuted at the ESPYs on Wednesday evening.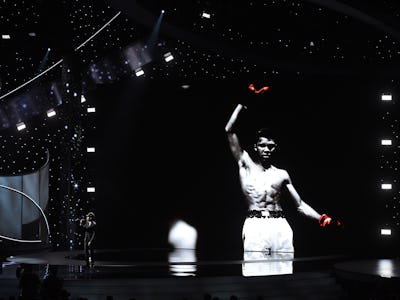 Getty Images / Kevin Winter
This year's ESPYs (short for Excellence in Sports Performance Yearly) began with a powerful message and held on to that tenacity throughout the entire awards show. What is usually a pomp and circumstance show commemorating America's favorite players became a platform for athletes and entertainers to speak out, and recognize those that came before them. In one such performance, Chance the Rapper stunned the crowd at the end of the night by performing an untitled new song dedicated to the legacy of Muhammad Ali. For the song, he was joined by The Social Experiment and accompanied by a choir.
A boxing legend and civil rights hero, Ali passed away last month at the age of 74, after a decades-long battle with Parkinson's disease. Chance the Rapper took to Twitter earlier today to field possible titles, giving his fans a rare chance to contribute to the brand new tune.
Naturally, fans went straight to work coming up with prolific names that they deemed worthy of a song about the man known far and wide as the Greatest of All Time. The melodic tribute is primarily sung, with clips of Ali's words interspersed between.
It's not clear whether Chance the Rapper will actually pick from the fan suggestions (he did, after all, pose the question hypothetically). He's given some feedback but hasn't made any moves to announce or decide on an official title. Still, for as long as the chance is open, fans are diving at it.
The artist's latest mixtape, Coloring Book, made history when it debuted at No. 8 on the Billboard Top 200, because it was the first streaming-only album to hit the charts at such a rapid rate. Coloring Book debuted with a whopping 57.5 million streams, which, according to Billboard, is the equivalent of 38,000 album units.