6 Crazy Pitches for The 'Pokemon GO' Live-Action Movie
The world's biggest mobile game could be the next big tentpole movie. But what would it be about?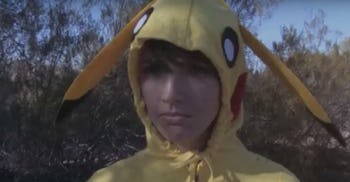 First, Pokémon GO conquered your free time and agoraphobia, and now, the smash hit mobile game/app is invading Hollywood.
A week since its release in the United States, the game has been causing people to make new friends, exposing gamers in the Pentagon, and giving away email addresses. And with the unrelenting popularity of Pokémon GO showing no signs of slowing down, it's no surprise that Legendary Pictures is rumored to be close to deal with Nintendo to make a live-action film version of both the world of Pokémon, and specifically connect to the action of the mobile game. But what would such a film actually be about? How could a film be both a live action interpretation of Pokémon, but also honor the IRL interactions people are enjoying so much with Pokémon GO? Here are six insane ideas for what the Pokémon GO movie would actually be about.
An Overly Repetitive Hardcore Henry-Style Movie of People Just Walking Around
Simply walking around in public right now will lead to you stumbling upon herds of people seemingly walking around aimlessly. The Pokémon GO movie could simulate this, only with shaky-cam POV footage. Here, we could build-suspense through the totally monotonous actions of actual Pokémon GO players. Faithful to the game? Totally. Experimental and ground-breaking? Without a doubt. Fun to watch? Um.
A Jets/Sharks Turf-War Story
In the proud tradition of West-Side Story or The Outsiders, this film would pit rival gangs of Pokémon GO players against each other. This could blend the fantasy elements of "real" Pokémon action, with maybe switchblades, and preferably, a bunch of dancing.
A Whodunnit Where Pokémon GO Leads to Real Crime-Solving
What if it all starts out as a game, but then players of Pokémon GO are suddenly tasked with solving real-life crimes? Already, gamers have found dead bodies while on the trail of Pokémon. Here, players would use their skills not just to catch cute Pokémon, but maybe, even bigger criminals. Think of it like Pokémon meets Kick-Ass.
A Rom-Com With Star-Crossed Human and Pokémon Lovers
I know. The obvious route. In this version, the famous Ash would not just be fond of Pikachu, the two would be madly in love. But how could they possibly hope to reconcile their love when Ash must capture Pikachu and all members of his kind? James Cameron would direct this one and use all of his cross-species romance skills he applied so well in Avatar.
A Twisted Horror Movie Like Saw
I'll admit it, this idea was directly inspired by this excellent video from the wonderful video game web series Hey, Ash, Whatcha Playin'? I can't imagine a Pokémon GO film I want to see more. Here the combination of cute monsters with the bitter warfare to catch-them-all could be rendered at its most dark, gritty and real.
A Faithful Adaptation of Regular Pokémon, Except Channing Tatum Takes His Shirt Off Every Single Time He Catches a Pokémon
Self-explanatory. Ginuwine could do a remix of "Pony" called "Pikachu."