Faroe Islands Create "Sheep View" to Replace Google Maps
Tired of waiting for Google to notice them, the creative citizens of the Faroe Islands have taken matters into their own hands.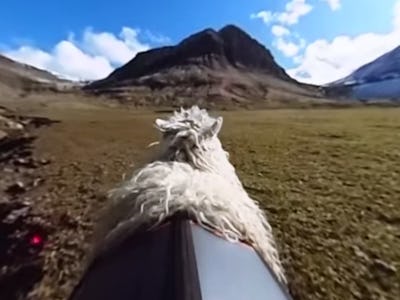 Google street view has not only managed to provide users with a more clear view of their daily routes, it's also spawned some of the internet's best candid photos. The wide-ranging addition to Google Maps covers roughly 100 countries and their territories, so being left out can make you (and your hometown) feel pretty small. Now, one group of islands has decided to defy that and create their own version of street view using a few very fluffy volunteers.
Durita Dahl Andreassen works with the Faroe Islands' tourism board, and she's hoping to take matters into her own hands — or hooves. Using 360 cameras mounted on her own sheep, Andreassen intends to document the incredible views of the islands' rich mountains and fields.
The Faroe Islands are under Danish Administration and are located between Iceland and Norway in the North Atlantic Ocean. In total, there are 18 rocky, volcanic islands in the archipelago, which are connected by a series of road tunnels, bridges, and ferries. Sheep are plentiful on the islands, doubling the human population with a total of roughly 80,000 of them on the grass at any given time. The island is thought to be named for its incredible population of sheep.
Andreassen teamed up with a few other locals to create the mount and recruit sheep. Now, all that's left are some technical improvements. "I think the Faroe Islands is the most beautiful place on Earth, and I think it's sad that I can't share it with my friends abroad." Andreassen says in her introductory video. "Google Street View has been all over Europe, even to the top of Mont Blanc, but never to the Faroe Islands. So I decided to do it myself."
The project (which is still in development, given that the initial camera fell off during its test run) is part of a major push to bring Google Street View, and hopefully more tourism, to the archipelago. Right now, Andreassen is manually uploading shots taken from "Sheep View" cameras herself.