EU and U.S. Make Transatlantic Data a Little More Private
The new "privacy shield" will hold companies accountable for leaking their user's data.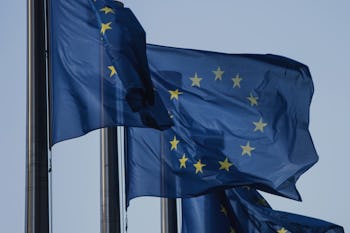 Getty Images
On Tuesday, the European Commission and U.S. Government announced a new deal that will greatly increase the privacy protections on the thousands of terabytes of daily transatlantic data transfers between the United States and Europe.
Justice Commissioner Věra Jourová and U.S. Commerce Secretary Penny Pritzker explained the new privacy shield at a press conference on Tuesday, which will hold the private corporations responsible for transatlantic cables and communications responsible for handling their customers' data responsibly.
Participating companies will be subject to regular checkups from the U.S. Department of Commerce, facing sanctions if they fail to comply with their own self-imposed rules around data handling.
The agreement also restricts mass data surveillance from the U.S. government on data transferred to the country, promising very specific preconditions for surveillance targeting. Individuals who feel that their rights have been violated can speak to their country's data protection authorities, who will co-operate with the FTC in the U.S. to help resolve the dispute.
It's the latest in many steps the EU has taken to protect data inside the 28-member bloc. One of the more notable steps is the right to be forgotten, which caused a stir when introduced by Google. The "right to be forgotten" grants Europeans the ability to remove their name from specific search results, something not available to American citizens. Tuesday's privacy shield will help alleviate the concerns surrounding the older Safe Harbor agreement, which was criticized by privacy advocates like Edward Snowden for making it easy for companies to harvest user data.
"I am very pleased to announce that this morning the European Commission has adopted the decision on the EU-US Privacy Shield, the new data protection framework for transatlantic transfers of personal data," Jourová said. "This brings to a close more than two and a half years of work since the commission first raised concerns about the old Safe Harbor arrangement."