Zachary Quinto Might Have Just Ended the Gay Sulu Debate
Should Sulu be gay or not? Spock himself might have just settled it.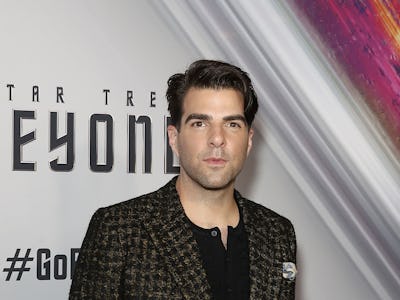 Getty Images / Cameron Spencer
If you've been following the pre-release buzz around Star Trek Beyond, then you know there are a bunch of big explosions in outer space, but also, a few over here on 2016 planet Earth, too.
Last week, actor John Cho revealed that his version of Sulu will be depicted as gay in Beyond, bringing Star Trek up to date with its mission of full-humanistic representation in the future. This celebration was short-lived when the beloved actor George Takei spoke-out against the revelation, feeling the whole thing smacked of tokenism.
Writer/actor Simon Pegg fired back that in order to avoid "tokenism," he and the other writers didn't want to create a new character that was "primarily defined by their sexuality," hence, the decision to make an established character gay. And now Mr. Spock himself is weighing in: Speaking to Pedestrian, actor Zachary Quinto said, "As a member of the LGBT community, I was disappointed that George was disappointed."
Quinto's stance may be unassailable. His assertion can be read as telling George Takei to lighten up, while at the same time acknowledging that it makes sense why Takei would have some beef here. Keep in mind, all of these quotes are being taken out of context, and that all these actors, from Takei to Quinto are being asked these questions by journalists, and it seems, they've all responded off-the-cuff and quite honestly. What's refreshing about this discourse is that not one of the people involved is being overtly disrespectful to any other party.
Quinto's words though, do carry a little more weight than perhaps Pegg's might, if only because Quinto himself is gay, having come out publicly in 2011. Not to mention, the tone of his comments can be read as conciliatory, saying: "I get it. He [Takei] has had his own personal journey and has his own personal relationship with this character …"
Still, any notion of adhering to any kind of original continuity from old Star Trek seems to be a non-issue for Quinto. After all, if Star Trek is all about positive role models for everyone, it seems like Zachary Quinto feels like their mission here is being accomplished.
"My hope is that eventually George can be strengthened by the enormously positive response from especially young people who are heartened by and inspired by this really tasteful and beautiful portrayal of something that I think is gaining acceptance and inclusion in our societies across the world, and should be."
For LGBTQ fans and their allies, we'll all have to wait and see for ourselves how Sulu is portrayed when Star Trek Beyond releases in two weeks. For now, though, it seems like Zachary Quintio's stance is fittingly, and refreshingly, logical.