The Biggest Aerial Tramway on Earth Is an Engineering Marvel
Halong Bay's new aerial tramway is XXL in every way possible.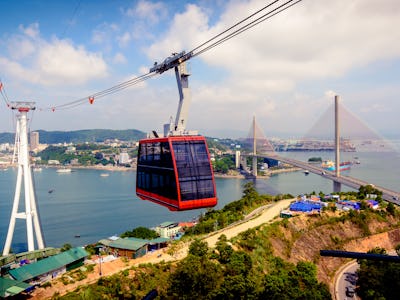 Doppelmayr/Garaventa
As if there weren't already enough reasons to take a trip to Halong Bay in Vietnam, a UNESCO World Heritage Site that boasts crystal clear waters and beautiful limestone islands, there's a new attraction that will surely draw more tourism to the area by offering gorgeous aerial views. Austrian and Swiss engineering company Doppelmayr/Garaventa recently completed the largest aerial tramway in the world stretching across part of the world famous body of water.
The engineers behind the Ha Long Queen Cable Car are calling it the biggest reversible aerial tramway with the tallest ropeway towers ever built, according to Swissinfo.ch. The larger of the two towers rises 620 feet, Curbed reports, and the tramway's two cabins can hold up to 230 passengers at a time. The tramway stretches about 2,165 meters, or about 1.3 miles, which takes the cabins approximately 15 minutes to traverse.
You better believe record-breaking public attractions cost a pretty penny. The Ha Long Queen Cable Car, which connects the Bai Chay district of Ha Long City to one of the world's biggest ferris wheels at the top of Ba Deo Hill, cost more than $282 million. The attraction officially opened June 25th and took about a year and a half to complete.