Did the Man Who Discovered Machu Picchu Inspire Indiana Jones?
We can't say for sure that Indiana Jones was based on Hiram Bingham, but there are some pretty intriguing similarities.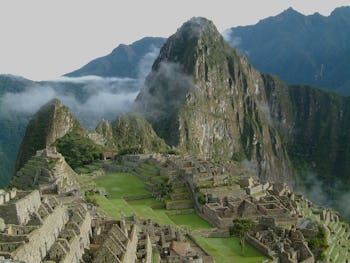 In July of 1911, Hiram Bingham III embarked on an expedition to what would lead to one of the most significant discoveries of the 20th century: the discovery of Machu Picchu. A teacher, explorer, historian, and adventurer, Bingham is something of an iconic figure, though his name isn't as widely known as that of the fictional adventurer he likely inspired.
He was searching for the last Inca capital, and though he found and identified the Inca cities of Vilcabamba and Vitcos, he ultimately mistook Machu Picchu (arguably the more visually impressive discovery) for Vilcabamba. Even with the case of mistaken identity, though, Bingham's expedition uncovered a stunning site that's become one of the New 7 Wonders of the World.
During that 1911 expedition to Peru, Bingham and the rest of his party traveled through the Urubamba River Valley in search of ruins of the last city of the Inca. Traveling through the valley en route to the cities of Vilcabamba and Vitcos wasn't easy, but it was markedly better than it would have been years before, thanks to a newly constructed trail. It was that trail that allowed his expedition party to get as far as they did, and it played a huge role in enabling the party to get to Mandorpampa, which is where Bingham met a man who would lead him to the biggest discovery of his life.
Because much of the terrain in Peru was and is still difficult to traverse, there's still plenty that explorers and historians don't know about the Inca civilization and its ruins. Ruins are still being discovered and excavated all the time, and for that reason, particularly in 1911, locals were invaluable resources to those looking for ruins.
At Mandorpampa, Bingham asked Melchor Arteaga if he knew of any ruins in the area. Arteaga said that he did and that he'd take him there. And so, Arteaga, Bingham and another member of the party made the steep and demanding trek to the ruins.
When they arrived, though, the site was stunning.
In his published account of the expedition in National Geographic in 1913, Bingham wrote: "The superior character of the stone work, the presence of these splendid edifices, and of what appeared to be an unusually large number of finely constructed stone dwellings, led me to believe that Machu Picchu might prove to be the largest and most important ruin discovered in South America since the days of the Spanish conquest."
Because it was so grandiose and impressive, Bingham though that Machu Picchu was the lost city of Vilcabamba that he was searching for. In reality, Bingham did discover Vilcabamba, it just wasn't Machu Picchu, but another site by the modern name Espirtu Pampa.
Still, it was the discovery of Machu Picchu — along with the discoveries of Vitcos and the actual Vilcabamba — that cemented Bingham's place as one history's most significant explorers. And there's a good chance that Bingham's spirit of adventure and dramatic discovery inspired one of fiction's most famous explorers: Indiana Jones.
To be clear, there's no tangible or irrefutable evidence that Indiana Jones is based on Hiram Bingham, but there are similarities abound, from their occupations to their hats.
Historian Christopher Heaney, author of Cradle of Gold: The Story of Hiram Bingham, A Real-Life Indiana Jones, points out that the costume designer who worked on Raiders of the Lost Ark said that part of Indy's iconic image was inspired by the Charlton Heston film Secret of the Incas.
"What's interesting is that they made Secret of the Incas after reading a few articles in National Geographic about Hiram Bingham's explorations," says Heaney. "The technical advisor on the movie was Bingham's friend Albert Giesecke, who was director of the Cusco University in the 1910s and helped Bingham in both his excavations and his explorations. So, Indiana Jones is not Hiram Bingham, but Hiram Bingham was used to create this set of characters and set of situations in Secret of the Incas that then influenced the creation of Indiana Jones and Raiders of the Lost Ark."
Furthermore, Bingham wasn't exactly the type of guy who might typically come to mind when you hear the word "historian." He was tall, well-dressed, and had striking features, not unlike Harrison Ford. Dirty and trekking through some unforgiving terrain, he gave off the impression of an adventurer.
Like Indy, Bingham also had to have been relatively rugged to make the treks that he did. It wasn't as if he was entirely a nose-in-a-book type — he definitely had a considerable adventurous streak. So while there's no confirmed or direct connection between Bingham and Indy, it's clear that Bingham certainly is befitting the title of "IRL Indiana Jones," whether or not he actually served as inspiration for the character.