Redditor Finds Ancient Porn 'Mac Playmate' on Junked Mac SE
The used computer had floor plans, old files, and ... a smut program called Mac Playmate.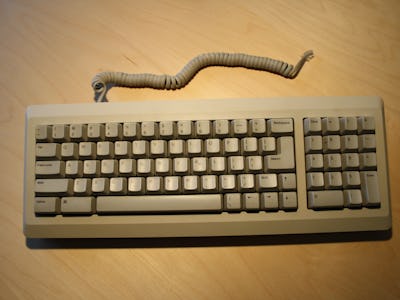 Wikimedia / MagicTom13
A Reddit user found a surprise on a Mac SE he recently purchased: A strange old erotica program called Mac Playmate, app that claims a controversial history.
Mac Playmate was released in 1985. It features a pixellated woman called "Maxie" and a group of "toys" that can be used on her. Keep in mind that this was on the low-resolution display available back in the '80s — this was about as scintillating as watching someone draw nude portraits on an Etch-a-Sketch. But unlike those ephemeral drawings, this program is apparently forever, otherwise, it would never have been found.
And people loved it: a 1988 profile of Mac Playmate (headline: "Macplaymate: Is It Software Or Hard Porn?") in the Los Angeles Times by Patt Morrison describes men going crazy over the game: "At a San Francisco computer trade show, it brought out the vice squad — and a 10-deep 'feeding frenzy' of men frantically waving wads of money, 'begging' to buy it," she reported then.
Hell, even the New York Times claimed in 1988 that some office workers chose to use Macs instead of IBM computers because of Mac Playmate. That's how novel a game that featured a naked woman and a box of sex toys was back then.
Just in case you want to see what all the fuss was about, here's a decidedly not-safe-for-work walkthrough of Mac Playmate:
Now Redditor "wowbobwow" has unearthed a piece of pornographic history. The Mac SE was purchased off Craigslist, and he documents all the interesting features of the computer in this Imgur gallery. The computer would have cost $3,900 in '87, not including the Ethernet card. The seller allegedly told him: "And listen, wowbobwow, I know this will sound like I'm crazy, but… when it turned on, it talked to me. Really."
Maybe he was talking about Mac Playmate: It was buried in a folder called "AOL." Remember, this is pre- incognito mode, so whoever owned this Mac had to be careful to hide it.
Luckily for its apparently fanatical enthusiasts, MacPlaymate was designed with privacy in mind: It includes a "panic" button that makes a spreadsheet appear in case of emergency.