10 New English Language Manga You Must Read This Summer
So far, here are some notable 2016 official English language manga releases to read this summer.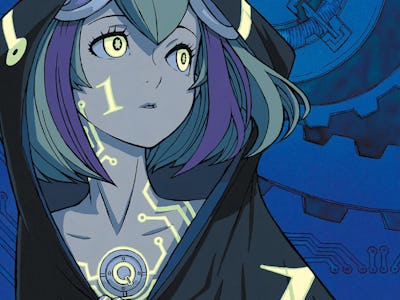 Sometimes, you want to relax and curl up with a book, but — equally —sometimes that book needs some good-looking art and dialogue bubbles. Comic books have become slightly more popular in response to the blockbuster MCU films released in recent years, but Japanese manga retains a stigma among "mainstream" American readers.
We've compiled a list of noteworthy English manga releases this year which would be great to sit down by the beach or pool with. Some of them are easy transitions for English language comic book readers, and others require a larger leap in faith. Trust us, these new releases are gold.
'Real Account'
This manga's characters, instead of being sucked into video games as is the trend now after Sword Art Online, are trapped in social media networks and sentenced to play a very twisted game of survival. Those stuck must play a variety of different mini-games to keep going, and if you don't have any followers during this tournament, you die. But if you die during the mini-games, your followers die too. This is a thought-provoking manga that will have you wondering what social media is slowly doing to all of us.
'Nichijou: My Ordinary Life'
Although the manga has been out since 2001 in Japan, the North American release has only just been released this year, because originally Bandai Entertainment was going to license it, but due to their downsizing, it was cancelled both times they tried.
Now, though, Vertical is releasing Nichijou, so we are able to now read about the outlandish and ridiculous goings on of high school students in the city of Tokisadame. There are deer in classrooms, eight-year-old scientists, and wind-up robots just to name a few pieces of insanity.
'Platinum Edge'
This one is currently an online English release, slated to reach bookshelves this October, but its worth noting because of the minds behind this series. Platinum Edge is created by Death Note and Bakuman's Tsugumi Ohba and Takeshi Obata.
This time, their story follows a suicidal Mirai Kakehashi that is saved by his guardian angel and given extraordinary powers. God will be retiring in 999 days and Kakehashi is one of the chosen few to potentially take his place. He must defeat the other candidates in order to rise to become a god.
'Dimension W'
This depicts a world without the need for standard electricity—no use for fossil fuels or telephone lines or outlets. In this universe, scientists have developed "coils" which siphon energy from another dimension and provide that energy for the population to power the devices that we would use batteries and cords for.
This manga, the first release being in February of this year, tells the story of Mabuchi Kyouma who has a love for vintage gas-powered cars. During his illegal capture of unregistered coils, he stumbles upon a mysterious cloaked girl and their adventure begins.
'Servant x Service
A slice-of-life office comedy is what you should be expecting for this humorous manga. Although there is plenty of The Office-type silliness, this one seems to have a surprising amount of character development and depth hidden amongst the zany antics of the fun cast of characters.
'Immortal Hound'
This one is set to release this July and the premise sounds pretty interesting. In this alternate futuristic setting, humans have developed an immunity to death. Unless its from old age, humans will resurrect after a few days. That is, until a strain of disease hits and people actually start to die. This disease is called Resurrection Deficiency Syndrome (RDS) and is afflicting an increasing amount of people. The story follows Kenzaki who lost his sister to the disease as he tries to discover what is causing this disease.
'Battle Rabbits'
As much as the name sounds sstrange, the idea sounds pretty promising. The main character witnessed his father's murder by a demon and while no one believed him as a child, he still knows what he saw even as a teenager. But when he's attacked again by demons and a mysterious girl by the name of Mai hops in to save him, he's shuffled into a secret organization that's purpose is to take down these demons that have meddled in his life. Oh, and all of them wear bunny ears.
'Yowamushi Pedal'
Also known as Weak Pedals, you'll find a great sports story about a nerdy cyclist that joins his local team once he gets to high school. Cycling doesnt sound like it would be very interesting to read about, but there is a large cast of great characters, both from the protagonist's team and from other teams too that lead this manga into a very entertaining read.
'Black Clover'
A story about a boy that has no magical abilities in a completely magical world awaits you when you delve into this manga. This is an adventurous tale of Asta who wants to become to most powerful wizard, the Wizard King, despite his lack of ability.
'Overlord'
As is the trend now, here's another one where the characters are stuck in a video game. In this case, Momonga stays logged into a dying MMO for as long as he can, but as the game comes to end, he is thrust into the world and is transformed into his skeleton avatar, magic powers included. But as he discovers when he enters the game for real, he might actually be the villain.