Happy Birthday to 50 Cent, the Most Confused Man in Hip-Hop
Beware, impending middle age.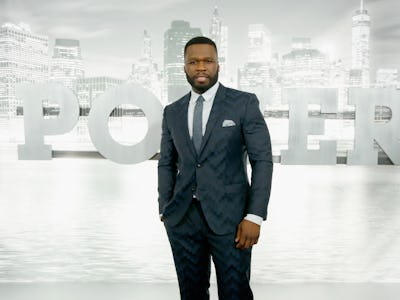 Getty Images / Brian Ach
Today is Queens rapper 50 Cent's 41st birthday. The former Curtis Jackson is known for many things: selling north of 30-million records worldwide, revitalizing the gangsta rap genre in the early '00s, having one of the most crucial, idiom-defining mixtape runs in rap history, as well as a erstwhile film star, the face of Vitamin Water, and a voracious entrepreneur (remember his NASCAR partnership?)
50 has not really been successful in any commercial sphere for some time; his pathetically-selling 2009 album Before I Self-Detruct was the beginning of the end for his relationship with Shady/Aftermath and Interscope Records, and a definitive end to his time trying to maintain his status as a major crossover star. However, he remains a ubiquitous presence in the hip-hop blog and TMZ headlines. Normally he just concerns himself with picking outrageous, long-running, laughable fights on Instagram, usually with peers like The Game, Ja Rule, and Rick Ross, whom he continues to mock for being a corrections officer, being fat, and not selling records.
Of course, 50's biggest headline of late has been his bankruptcy scandal last July. The Chapter 11 filing became more of a punchline as Jackson went onto pose with stacks of money to demonstrate that the court action was only a technicality. Then at the hearing, he preceded to claim that the money he poses with in court was prop money." 50 always seems to be at pains to negate his own achievements, and position himself as a protagonist in a hypothetical hip-hop Christopher Guest mockumentary.
Nowadays, a 50 Cent Google search will always turn up something, and it's rarely a solid new track; the best you can hope for are tales of a potential G-Unit reunion or a couple of rumors about an impending mixtape. Most often, it'll be news about him mocking an autistic airport janitor on social media, or refusing to leave stage for T.I. and Jeezy at a Hot 107.9 bash in Atlanta, the hometown of those two rappers.
50 is now truly moving into veteran status, and middle age, and watching his movements is a cautionary tale to any older, malcontented person with full reign over their social media account. There's also a steadfast refusal to play the background, rather than try to hog the spotlight, even when it is clearly not his moment. New York is no longer the first city in rap (no, Desiigner doesn't count) and 50 is now chasing the trends rather than setting the bar as he used to.
Our best hope is that this birthday, even more so that his 40th, will be a warning call to Mr. Jackson: Older rappers have to do a lot more than talk shit to keep their position of respect. 50 once wrote a self-help bible of sorts based around the axiom "Fear nothing." This has proven, in practice, to be a terrible MO for him.