Watch The 'Ash vs Evil Dead' Season 2 Teaser Soak Ol' Ash In Blood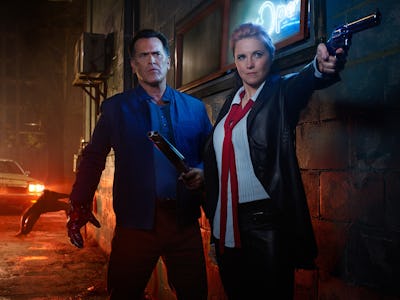 Starz
The first season of Ash vs Evil Dead on Starz was by no means restrained. It was gory as it was hysterical, with Bruce Campbell reprising his iconic role as Ash Williams from Sam Raimi's Evil Dead movies. But the teaser trailer for the show's second season premiering in October is a thirty second waterfall of blood and guts and vomit. It's painted with with enough body fluid to make the show's awesome and gruesome first season look like a children's cartoon.
Returning for Season 2 to fight the forces of evil are Ash's pals Pablo (Ray Santiago) and Kelly (Dana DeLorenzo) with Lucy Lawless's Ruby, an enemy-turned-reluctant ally who possesses the powerful Necronomicon. In Season 2, Ash must leave his beloved Jacksonville behind to return home to Elk Grove, the new nexus for the underworld.
In the trailer is an elegant, viscera-streaked montage previewing the batshit insanity in store for Season 2. Ash still has his chainsaw and boomstick, of course, but now he's up against crazed surgeons, worms with sharp teeth, a vomiting grandma, and a mechanical bull. Yeah, Season 2 is going to be a ball.
Ash vs Evil Dead returns for Season 2 on Starz in October.