LEGO's New Headquarters Prove Everything Is Indeed Awesome
Architect CF Møller shows off designs for the new LEGO corporate headquarters.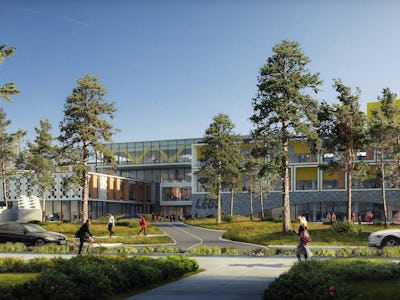 The video announcing the plans for LEGO's new headquarters starts with the camera looking down a conference table in an office type setting. At the far end hangs a standing portrait of a child smiling, proudly holding a LEGO creation that was obviously erected completely absent of any plan. The camera tracks down the table towards the portrait until the child and his Franken-building fills the frame. A beat later it pans out to reveal that this child and his ill-conceived edifice is the inspiration for a friendly goateed LEGO contractor and there's the new LEGO campus in the background.
LEGO is a company known for its employee-centric and environmentally conscious culture. Klaus Toustroup, CF Møller partner and CEO explained in a release that the new designs were conceived "in close collaboration with LEGO and employees." Lego has been headquartered in Billund, Denmark since the 1930s and will erect its new headquarters next to its visitor center, LEGO House, which is opening sometime later this year.
From the video, CF Møller appears to have stayed on brand and pieced together the design of the new 52,000-square-meter — over 170,000-square-foot — corporate headquarters. The exterior of the building will feature bold geometric shapes reminiscent of the company's signature bricks.
Each circular or rectangular wing of the building will feature a green roof-deck, and the entire building will be surrounded by a large public park. The same yellow, familiar to the general public as the skin on LEGO figurines, will be used to splash color on stairs, wall accents, and balconies. Giant LEGO men and women will tower over the open spaces and reception areas to highlight that everything is awesome when you're part of a team.
The lower floors are for employees to use and will feature a fitness center, courtyard atriums, play and lounge areas. The main reception area will look more like a daycare center than a place of business. The upper floors are intended for work, but are similarly inviting. There are areas designated for informal meetings, barista stations for that afternoon pick-me-up, temporary workstations, and green roof gardens for those looking to get some stuff done in the sunshine.
Last but not least, the LEGO campus design also includes a mini-golf course on one of the roof deck, just in case important business decisions need to be made through a contest of skill.