Police Shut Down VR Porn Festival After Crowds Grew Too Big
The show all got a bit out of hand.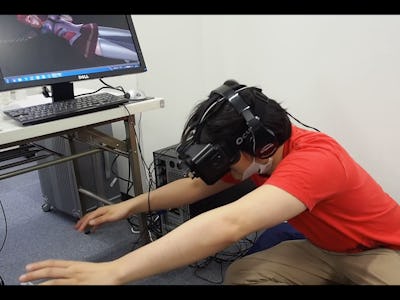 denfaminico_ch/YouTube
Japan's first virtual reality porn festival came to an abrupt finish after crowds overwhelmed the venue and forced police to intervene. Adult VR Fest 01 is set to return to Tokyo next month, but attendees able to get in before the shutdown got an early glimpse of what VR tech may bring in the future.
According to a blog post translated by The Next Web, the authorities had to step in and shut the festival down early due to fears of overcrowding. The reporter attempted to gain access, but with the scrambling masses and overcrowded streets, it was impossible to enter before the show closed.
The exhibits inside the show were interesting, to say the least. One demonstration involved a user placing their hand in a cardboard box, where fans would blow air in a way to simulate the feeling of touching a breast. Another was an inflatable female torso, designed to accompany a game played on a VR headset. A third was a sort of robot contraption that … gives the player a hand.
"The event didn't start until 2 PM, so I went there in high spirits an hour before then, but the city was already overflowing with people," the reporter said. "There were so many that it was almost impossible to keep the situation under control."
"While waiting for my friends, I couldn't help but think that if they couldn't control the mass of people, a riot or something similar could happen," the reporter said. "The 20 lucky guys closest to the building were let in by the staff. I'm sure there was a line inside the building that rivaled the one outside."
Big name streaming sites are already preparing for virtual reality porn, so it's clear some businesses see this as the future. If the crowds are anything to go by, a lot of people out there agree.