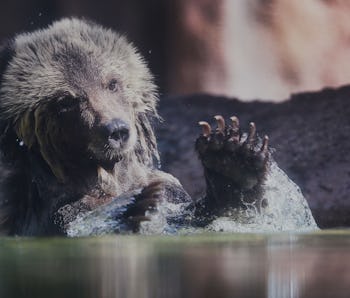 Culture
New BearCam Takes a Look at the Daily Lives of Bears
Wildlife enthusiasts can tune in to an all-new kind of reality show with Katmai National Park's new BearCam. 
Getty Images / Joe Raedle
We live in an age where real-time streaming has become so prominent that it plays a part in the sports we watch and the way we entertain ourselves. Live content is on the rise across social media, and other platforms like Twitch have capitalized on specific livestreaming venues such as drawing and gaming — but with all due respect, watching cute baby animals roll around in a playroom via livestream has become extremely popular.
The Katmai National Park in Alaska is the latest to join other parks and animal sanctuaries around the world who let the world monitor their animals via a system of webcams. Six cameras across the park show off what's happening in some of the bears' favorite spots, and Park Rangers will routinely answer questions when they hop on stream.
Park Rangers will be on hand via twitter and periodic live stream sessions to answer questions about the bears, with each live stream focusing on a single primary topic.
The "biggest, most dominant" bears are said to often quarrel over a good fishing spot at Brooks Falls, but each location has its own unique quirk, and the bears are often best seen at specific times that differ from one camera to another. Each listing details when bears might be seen, and why they're around that particular area during the season.
According to the park's website, most of the bears won't be going into hibernation until about October or November (save for those that are pregnant, who may retreat a bit sooner), so there's plenty of time to check them out.