Solar-Powered Oxygen Concentrators Save Lives
The device could soon be implemented in 80 hospitals across the country.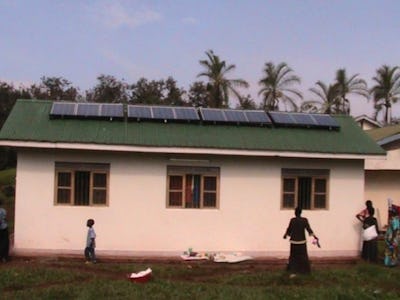 Michael Hawkes
A Canadian pediatrician has designed and implemented a solar-powered device that delivers life-saving concentrated oxygen to children with severe pneumonia in Uganda. The device provides oxygen via solar panels by day and charged batteries by night, making for what's so far been a 100-percent consistent delivery system.
Dr. Michael Hawkes, an assistant professor of the University of Alberta's Division of Pediatric Infectious Diseases, received a Grand Challenges Canada grant to fund the project. It's already fully replaced the delivery systems in two hospitals in Kambuga and Jinja, where Hawkes had worked for two years. Children battling severe pneumonia need concentrated oxygen — a staple of any treatment program in the developed world — to keep them alive while they wait for antibiotics to take hold. But the previous methods, oxygen cylinders or electricity-powered concentrators, were erratic; cylinders leak or else run out, and concentrators are at the mercy of frequent power failure.
In a pilot study and subsequent randomized trial (completed but not yet published), Hawkes and his colleagues found that the solar-powered oxygen resulted in the exact same rates of mortality and length of hospital stay as oxygen provided via the older methods — while being much, much more reliable.
"Beyond the technology, it's a human story," Hawkes said. "A six-month old came to our site near Kambuga and he was sick, he was having a hard time breathing. The nurse recognized how much he needed [concentrated] oxygen, but there was none for miles and miles around. We called our site coordinator, who picked him up on his motorcycle and took him back to our [Kambuga] site and hooked him up to our solar oxygen, and he improved. Not to be dramatic, but he could have died, so that's all very encouraging for a pediatrician."
The planning and funding may have taken a while, but the actual building process was breathtakingly simple — Hawkes said it took only half a day. Using a commercially available oxygen generator that takes 400 watts of electricity, he just had to calculate the number of batteries and panels needed to run that 24/7 and physically wire it together.
There are 25 solar panels on the roof at the Jinja location. Each is 80 watts, connected to a battery bank or eight batteries inside the children's ward. The bank charges up during the day and provides continuous power throughout the night as the concentrated oxygen is delivered to the children through nasal prongs. The Kambuga hospital setup is smaller, but in the same vein. The devices have been in use at the two locations for nearly two years now — the pilot study and longer randomized control trial concluded months ago, but why shut them down when they do such a good job?
Hawkes has plans to implement the device in 80 hospitals across Uganda. He's working with the Clinton Health Access Initiative, which has the ear of Uganda's Ministry of Health.
"So, fingers crossed, that funding will go as planned and we can use the opportunity to then do a nice study looking at the effect of implementation on pneumonia-associated mortality," Hawkes said. "With more sites, we can demonstrate and quantify that this saves lives, demonstrate the mortality benefit. If we can establish mortality benefit I think this idea will go viral. It will take off."
The potential market is enormous — pneumonia is the leading killer of children under the age of five. Hawkes estimates that hundreds, even thousands of hospitals across sub-Saharan Africa and possible Asia could benefit from the device.
The initial capital investment is $18,000 per hospital — a bit high, Hawkes acknowledges. But much of that is offset by the fact that maintenance is minimal. In 20-month period of use thus far, no one's had to change a single battery or panel. The batteries have an expected life of three to five years, so at some point, that cost will factor in again. The solar panels, though, should last 20 years, and according to Hawkes require nothing more than a dusting from time to time. And the power inputs — sun, air — are free.