Drones Keep Shutting Down Air Operations Over Wildfires
As West Coast wildfires continue to rip through the wilds of California, the NIFC has reported that consumer drones have halted their attempts at handling fires four times this year.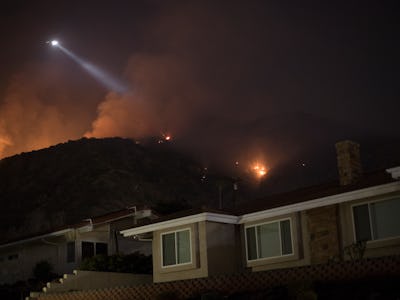 Getty Images / David McNew
If you fly, they can't. That's the message that the National Interagency Fire Center has been shouting from the rooftops for over a year, to little avail. They're directly addressing concerns over consumer drones flying near the widespread fires on the West Coast, which block their agency from air-based operations because of the dangers of sharing airspace with the remotely navigated drones. This has forced the forest services to ground several rescue planes, and today, the NIFC spoke up again about the dangers and setbacks that have arisen because of the drones.
According to the NIFC, drones have effectively shut down air-based operations four times this year, and personal drones have curiously flown over twelve fires, which has caused many problems when it comes to taming the rapidly-spreading fires in California.
The drone problem has gotten so out of hand that actual bounties have been issued by the San Bernardino Police in order to track down the drone operators responsible for an interruption during firefighting operations in an effort to control one of California's three major fires of 2015. Not only do the drones interrupt the airspace that firefighting aircraft occupy over the fires, they also halt any efforts to calm the fire because of the possible catastrophic results of collision.
Unfortunately, drone advocates and California's government officials aren't on the side of the national parks. Governor Jerry Brown is on the drones' side of an ongoing battle to restrict them within California air space, and that problem trickles down to what's going on now. Without the needed regulations in place, drone owners can freely fly over natural disasters and fires, which is probably why the request from the NIFC is so polite.
Right now, at least twelve wildfires are burning roughly 42.1 thousand acres of land in several areas of California, Arizona, Utah, Nevada, and New Mexico, to name a few. The NIFC's latest report shows an ongoing growth in the fires, which have caused hundreds to evacuate while battling record heat over the past month.