'Digimon Adventures Tri' To Get English Language Screening
It's been over a decade since the last Digimon movie was released in English.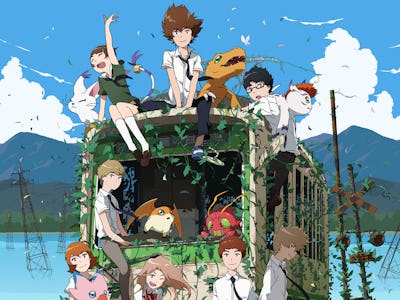 Toei Animation, Akiyoshi Hongo
On Wednesday, Toei Animation and Eleven Arts announced that they will bring the English-language version of the first film in the Digimon Adventure tri. series to theaters across America. The new series is a direct sequel to the 2000 animated show, refocusing on the original cast of characters after several seasons of spinoffs and new faces.
Digimon began life as a multimedia franchise similar to Pokemon. What started as a Tamagotchi-esque virtual pet simulator quickly expanded into a line of video games, television shows, comic books, and action figures. The animated show in particular became quite popular among viewers. About a group of Japanese schoolchildren who get transported into another dimension filled with monsters, the show was surprising a pretty sophisticated bit of sci-fi storytelling. Plots revolved around conflicts within different factions of the alien realm, and the story and visual design echoed vintage science-fiction like John Carter.
That sci-fi streak continued well into the third season when the show hired Chiaki Konaka to write a new spin-off of the series. Previously, Konaka had written the avant-garde, cyberpunk anime Serial Experiments Lain. A dark, twisty cyberpunk thiller, Lain was a show decidedly not for children. Everything about the Digimon series including up until that point showed a brave willingness to tell ambitious stories centered around a toy license.
While later seasons dulled that sci-fi edge, making the shows more consumer-friendly, the first two seasons and the Konaka penned spin-off are often regarded as some of the best animated shows of its era. Digimon Adventure tri. is a direct sequel to the original animated series, following high school aged versions of the cast from the first season. Furthermore, Toei hired acclaimed illustrator Atsuya Uki to handle character designs. Prior to that Uki has worked on several high-profile anime critically praised for his unique visual style.
While a subtitled version of the series can be found currently on streaming services such as Crunchyroll and Hulu, this will be the first English language film release for Digimon in over 15 years. Toei and Eleven Arts plan on releasing the first chapter — which hit theaters in Japan last fall — through a special Fathom event screening on September 15, followed by a nationwide release later. The second chapter was released in Japan in March (with a Crunchyroll stream debuting at the same time).
The third entry in the series — there will be six overall — hits theaters in Japan in September.