5 Asteroid Day Activities
Queen guitarist Brian May held the first Asteroid Day last year.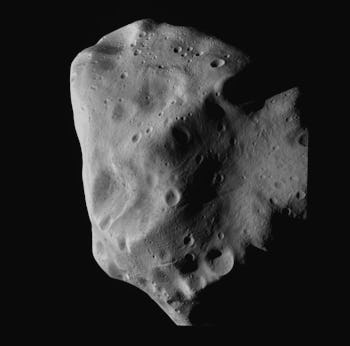 Getty Images
Did you know Asteroid Day is Thursday? The annual event, held on June 30, commemorates the Tunguska event, where a meteor crashed in Siberia in 1908.
The impact flattened 800 square miles of forest, and is "the only entry of a large meteoroid we have in the modern era with first-hand accounts," according to Don Yeomans, manager of the Near-Earth Object Office at NASA's Jet Propulsion Laboratory.
Asteroid Day was announced on December 2, 2014 in London, by film director Grigorij Richters, astronomer royal Lord Martin Rees and Queen guitarist and astrophysicist Dr Brian May. Although this year's is only the second Asteroid Day in its history, there's a whole host of events and activities taking place around the world.
Have a cosmic beer
The Church Brew Works in Pittsburgh will be tapping a special ale brewed with meteorites. Yes, really. The brewery used a special "stein beer" brewing style, adding three meteorites heated to 800 degrees during the brewing process. Presumably it'll taste out of this world, or some equally terrible pun.
Church Brew has a second surprise up its sleeve: a 900 pound part of the Natan meteorite. The iron rock fell to earth in China 500 years ago this year, with the total known weight coming in at over 20,000 pounds. During the "Great Leap Forward," farmers tried melting parts of the meteorite to use the iron, but were unable to because the melting point was unusually high.
Relevant Queen Song: We Will Rock You
Play a giant game of Kerbal Space Program
At the California Academy of Sciences, "astronogamer" Scott Manley will show budding players how best to defend the planet in spacecraft simulation game Kerbal Space Program.
The game centers around helping creatures called "Kerbals" develop their spacecraft and conquer the galaxy, with reviewers praising it for its realistic physics. Players that bring along their own machines can join in the fun for themselves.
Relevant Queen Song: Killer Queen
Watch a film about asteroids with music by Brian May
Science-fiction film 51 Degrees North was released last Asteroid Day. Damon Miller is a filmmaker struggling to get by, but one assignment takes him on a life-changing voyage into researching near-earth objects.
The film is soundtracked by Brian May and directed by Grigorij Richters, who have made an alternate version of the film available for event screening on the Asteroid Day website. Alternatively, the Pontifical Catholic University of Chile is also hosting a screening.
Relevant Queen Song: The Show Must Go On
Watch the online broadcast
Slooh has queued up four hours of expert discussion, starting at 7pm Eastern time online, to discuss some of the latest goings-on in asteroid science. How can we detect if an asteroid is heading for earth? How are people making money from these asteroids? How can we stop asteroids from hitting the planet?
All of these, and more, will be answered by a host of guests, including Dr. Nathan Myhrvold, a former chief technology officer at Microsoft that has published original research into asteroids, and Paul Cox, a Slooh astronomer guiding the audience through some of the team's favorite asteroids.
Relevant Queen Song: Don't Stop Me Now
See and hold real-life meteorites
The Cranbrook Institute of Science in Bloomfield Hills has a big day of activities planned out. Don't miss the 3pm "tour of rocks from space," where visitors will be able to see speciments from the Seymchan meteorite, found in 1967 in eastern Russia.
All throughout the day guests will be able to see and handle actual meteorites, as well as asteroid impact glass produced under heat and pressure from sand during a meteorite collision. The collection is Michigan's largest, so don't miss out.
Relevant Queen Song: Another One Bites The Dust