Jeff Bezos Shares Photos of Blue Origin's Florida Rocket Factory
"It's exciting to see the bulldozers in action."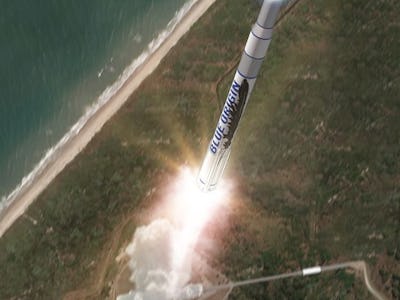 Blue Origin
It's that time again: Jeff "El Jefe" Bezos, founder and CEO of Blue Origin, shared a little background on Tuesday about his aerospace company's dirt-moving in Florida, the very beginning of a project to build a massive orbital vehicle manufacturing facility by the end of 2017.
Blue Origin is dedicating 750,000 square feet of factory space to building its own rockets from scratch, but Bezos's letter to subscribers of the company's email newsletter was just confirming some of what we already knew: On June 3, Florida Today reported on early bulldozing happening at Kennedy Space Center's Exploration Park. Back in September Blue Origin announced that it not only would launch its orbital vehicle from the Space Coast, but it would also build that vehicle there.
Expected to be much taller than 50-foot-tall New Shepard booster that will take space tourists into low earth orbit, Blue Origin's orbital vehicle might end up as tall as Elon Musk's 230-foot-tall SpaceX Falcon 9 rocket.
Blue Origin offers this general mission outline for its orbital vehicles: "the first-stage booster will separate and land back on Earth. An expendable second-stage will continue to propel the capsule into orbit, toward scientific research and exploration. At the completion of its flight, the capsule will reenter Earth's atmosphere and land under parachutes, enabling reuse, improved reliability, and lower-cost access to space."
The landing back-on-earth maneuver is an experimental feat Musk's Falcon 9 has accomplished three times, as has the smaller New Shepard four times.
And here's a rendering of what they could be working on in Florida:
So what is an orbital vehicle? It's a spacecraft powerful enough to carry a payload — either people or satellites or something else — beyond suborbital space and into the region above the Earth where an object can complete at least one orbit around the planet. Such a vehicle needs to be able to make it to an altitude of at least 62 miles, and retain a velocity that's high enough to keep from immediately slipping back into the atmosphere.
For now, the BE-4 engines for the orbital vehicles will continue to be built some 3,100 miles away in Kent, Washington, while Blue Origin searches for a new site for a "larger engine production facility to accommodate higher production rates." The company is eager to put its BE-4 into mass production in an effort to help ween the United States off Russian-made engines.
Meanwhile, the word orbital "vehicle" is firmly attached to the new facility. And this raises plenty of questions. New Shepard is not an orbital vehicle like, say, the old NASA Space Shuttles — it's not designed to stay in space for long durations and float around the planet.
Blue Origin's orbital vehicle has been under development for three years now, and while details are sparse, we do know it will be a reusable capsule like New Shepard, which is part of a larger goal among NASA, SpaceX, and other companies to reduce the costs of spaceflight.
"We're clearing the way for the production of a reusable fleet of orbital vehicles that we will launch and land, again and again," Bezos writes.