HBO's 'Westworld' Producers Assert There's Nothing Wrong
A new interview with Entertainment Weekly sheds some light on the troubled production.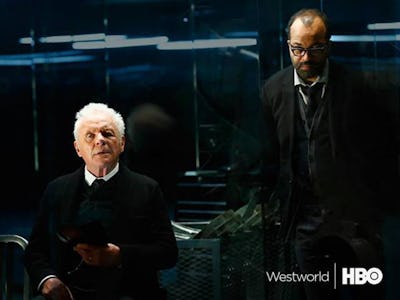 Facebook / WestworldHBO
Now that the latest season of HBO's mega-hit Game of Thrones is over, the network needs another cultural smash. Vinyl didn't quite do the trick and became so expensive that it was cancelled, so now, HBO is most likely hedging all bets on the upcoming TV-series remake of Westworld. You might think because the update is produced by all-around genius J.J. Abrams, Person of Interest's Jonathan Nolan (brother of Christopher), and Burn Notice's Lisa Joy that g, but it didn't quite work out that way. Production was halted, questions were raised, and nothing new came out until the first teaser was released in June. Now, Nolan and Joy shed some light on the reshoots and the plot of the highly anticipated series in a new interview with Entertainment Weekly.
It seems reshoots have been a topic of controversy on both the big and small-screen as the new standalone Star Wars movie Rogue One is currently going through some post-production nips and tucks, which sent fans into a tizzy. Likewise, Westworld stopped production after the series was ordered two years ago for a 2015 premiere in order to swap out cast members, and change the storyline. It sounded a bit more serious than, say, the Rogue One reshoots, but In the interview Joy was quick to point out that it was for the better.
"For the first half of the series we were writing while in production and we needed the time to catch up on scripts," she told EW. "Taking that time allowed us to really finesse all the storylines we set up – deepening character arcs and delving further into the series' larger mythological questions."
The problem seemed to be the latter half of the series, which she explained needed to be redone in order to make the episodes as "ambitious on the screen as they were on the page." You can't fault them for trying to stick the landing.
But it isn't all problems and stress. EW asked Nolan about the changes the show made from writer/director Michael Crichton's original 1973 movie. It seems instead of having human protagonists they decided to flip the plot and make the question of humanity in the A.I. "hosts" a bit more complicated.
"The 'hosts' are discovering that they've been created in our image, but beginning to question if humanness" is really what they want to aspire to," Nolan said. "And given their circumstances, it's easy to understand why they start to question whether they want to be like us at all."
That makes more sense based on the trailer, which prominently featured Evan Rachel Wood's robot character as Ed Harriss gunslinger. They seemed to be contrasted with James Marsden and Jimmi Simpson's human characters as well as Anthony Hopkins who plays Dr. Robert Ford, the creator of the park.
There's no specific release date yet, but HBO will debut Westworld in October.