Columbus, Ohio Is About to Become a Smart City but It Still Won't Be Easy
The Alphabet-backed Sidewalk Labs is bringing their "smart city" concept to Ohio for the next three years, say new reports.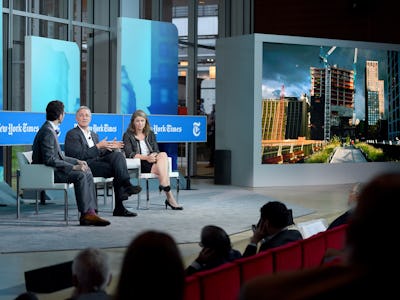 Getty Images / Larry Busacca
Though their process is still shrouded in mystery, ambitious startup Sidewalk Labs is reportedly moving forward with a plan to revolutionize the way we navigate and use the resources of urban life. New documents reveal that the company — best known for staying unrelentingly mum on almost everything they're working on — is almost ready to bring their promise of a "smart city" to the real world, and it looks like it will all start in Ohio.
After winning the $40 million Smart City challenge award organized by the U.S. Department of Transport, the city of Columbus now has first dibs on the proposed technology. Sidewalk Labs is offering the city a three-year trial of its capabilities, which will include the installment of 100 Wi-Fi kiosks and several new systems that the company says are like new "superpowers" that will help extend access and mobility everywhere.
The report comes from The Guardian, which legally obtained documents that detailed the plans today. The kiosks operate as more than just beacons for wifi — they'll also gather data on traffic flow in order to better predict and assess routes for drivers in the city. The software behind it all is called Flow, and was originally introduced with the intention of building a city structured for self-driving cars. From there, Flow will also help determine the fullness of nearby parking structures, and aid self-driving cars as they navigate the city to collect data on where these open spaces are.
The fears begin with public transportation, unfortunately, where self-driving car rentals could effect local bus services and could force cities to invest in self-driving cars. But bigger and even more real problems exist when it comes to long-term affects on low-income residents, as well as needing to improve or rebuild parking facilities in order to work with the technology.
"When governments and technologists collaborate, there is an enormous potential to reimagine the way we approach urban mobility," Anand Babu, COO of Sidewalk Labs, told The Guardian in a recent statement. Right now, there are no confirmations or official reports regarding when Flow will roll out to Columbus.