Stanley Kubrick Just Joined Twitter
Kubrick died in 1999, but his social media presence has just begun.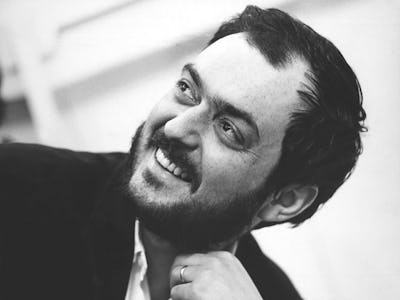 https://www.instagram.com/StanleyKubrick/
What do Michael Jackson, 2Pac, Humphrey Bogart, and now Stanley Kubrick have in common? They're all dead celebrities who have Twitter accounts.
The whole life and death thing on social media is still awkward for us plebes, but it makes sense that the estates of dead celebrities want to keep up a presence once said celebrity has passed on. You can now add the director of 2001: A Space Odyssey, Dr. Strangelove, Full Metal Jacket, and more to that list. Not bad for a guy who's been dead for 17 years.
His Twitter is a bit bare at the moment, but Kubrick was such a fascinating character that there's probably no shortage of behind-the-scenes tidbits, photos, videos, etc. that will make their way to the Twitter-sphere and beyond. The only tweet so far is a GIF of Alex the Droog from A Clockwork Orange with the text "I Can't Believe It" in front of him. But you best believe it, because besides Twitter, the Kubrick estate has also launched an official Facebook and Instagram page for a total Kubrick social media takeover — though there isn't a Snapchat page…yet.
Howie Berry, a Kubrick historian, has most recently been updating Twitter personalities and cinephiles about the impending Kubrick Twitter-ization, and the page is already racking up a sizable amount of followers for a filmmaker of Kubrick's stature.
The social media blitz looks to be in tandem with the new retrospective exhibition about Kubrick's life and films — which gathers everything from his photography in LOOK magazine taken in the '40s straight through to costumes, and props from his final film Eyes Wide Shut — coming to the Contemporary Jewish Museum in San Francisco. The touring exhibition had previously been on display at various museums across the globe in cities like Seoul, Sao Paulo, Toronto, Paris, and Krakow. Most recently is was shown at the Los Angeles County Museum of Art in 2013, but it will move to the San Francisco location on June 30.
Follow Kubrick on Twitter, and hopefully the powers that be will finally release those 17 minutes of lost 2001 footage.