New 'High-Rise' Poster Channels Kubrick's 'Clockwork Orange'
Are you ready for a bit of the old ultra-violence?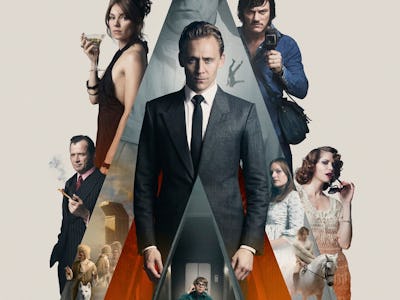 https://twitter.com/mr_wheatley
British auteur director Ben Wheatley is slated to graduate to the big leagues with his next film, a big-screen studio adaptation of author J.G. Ballard's 1975 novel about class warfare waged between the tenants in an ultra-modern luxury apartment building. The adaptation stars Tom Hiddleston as Dr. Robert Laing, a doctor and new arrival at the titular building; Jeremy Irons as Anthony Royal, the building's architect; and Sienna Miller, Luke Evans, Elisabeth Moss, and James Purefoy as some of the other tenants. Wheatley is known for subversive horror-tinged movies like Kill List and A Field in England, and the savage social commentary of High-Rise is a perfect fit.
After premiering at the 2015 Toronto International Film festival, we've had a steady stream of trailers and an image or two to give us a sense of what the movie has in store. Now Wheatley debuted a new poster for the film on his Twitter account and cinephiles will definitely get a sense of what the director is getting at with the movie based on the poster's resemblance to another subversive classic.
Take a look at the poster below:
Ring a bell? Stanley Kubrick fans should definitely recognize some Clockwork Orange vibes from the poster. See for yourself:
And it totally works. Besides the nice poster geometry, the themes of both movies go hand-in-hand. Both are about disillusioned people stuck in modernity and resorting to ultra-violence to break free.
High-Rise will be released in the U.S. on April 28.