Supreme Court Strikes Down the Junk Science Behind Texas Anti-Abortion Law HB 2
Texas couldn't provide evidence that the bill would help "even one woman" get better treatment.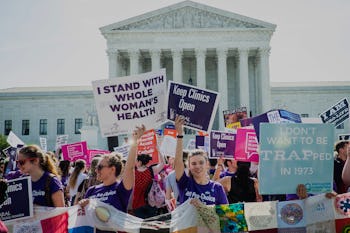 Getty Images / Pete Marovich
In a stunning 5-3 ruling, the Supreme Court struck down a Texas anti-abortion law Monday that would have shut down the majority of the state's remaining abortion clinics. And they used cold, hard facts to do it.
Back in March, when the court first heard the case — styled Whole Woman's Health v. Hellerstedt — Texas claimed that "abortion is legal and accessible" in the state, despite the passage of HB 2, a state law that required abortion clinics to implement costly structural upgrades, and abortion doctors to obtain admitting privileges at nearby hospitals. The state's claim that the law protects the health and safety of women has been heavily denounced by doctors far and wide, including those who make up the American Medical Association. In reality, the law would force the closure of clinics that can't make the necessary changes and restrict access to clinics for women in more rural parts of the state.
An "undue burden"
But in today's landmark decision, the court held Texas to its tenuous medical claims. The state could not provide a "single instance" in which these requirements would help "even one woman" obtain better treatment:
"There was no significant health-related problem that the new law helped to cure," writes Justice Stephen Breyer. "We agree with the District Court that the surgical-center requirement, like the admitting-privileges requirement, provides few, if any, health benefits for women, poses a substantial obstacle to women seeking abortions, and constitutes an "undue burden" on their constitutional right to do so."
Opponents of HB 2 who have called for the court to #StopTheSham applauded the ruling's focus on the facts:
"Beyond rational belief":
"We stood in the light":
The evidence included peer-reviewed studies, expert testimonies, and more actual science to show that complications rarely require hospital admission and most complications that do require hospitalization occur days after the abortion, not right on the spot.
Today's Supreme Court decision will not only strike down HB 2 in Texas, but affect similar so-called "TRAP" (Targeted Regulation of Abortion Providers) laws that have been implemented across the country.
In her concurring opinion, Justice Ruth Bader Ginsburg writes: "Targeted Regulation of Abortion Providers laws like HB 2 that do little or nothing for health, but rather strew impediments to abortion, cannot survive judicial inspection."
Because you can't spell "truth" without "Ruth."
Read the full decision here: