Brazil Will Have to Choose Between Pizza and Air; It Could Go Either Way
Time to shut down the ovens, guys.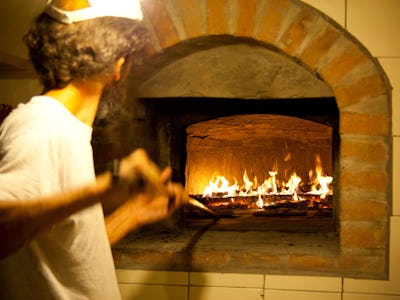 Roberto Pasini / Flickr
New research suggests that residents of the massive Brazilian city of São Paulo might be getting a side of toxic chemicals with their favorite dish. The study, to be published in a forthcoming issue of Atmospheric Environment, points towards woodfired pizza joints and charcoal-burning steakhouses as contributors to the city's air pollution problem.
The city has a particular penchant for pizza, serving up one million pies per day, according to a press release. And while the country's rising obesity levels have attracted attention elsewhere, that was not the focus of this research. Instead, the researchers wanted to find out why the city has struggled to meet air quality standards, despite having regulations requiring the use of cleaner-burning biofuels in vehicles. They found that pizza joints and steakhouses were significant contributors to the problem, as was the burning of forests and brush in areas outside the city, which could then waft through.
You may think of wood heat as a green alternative to fossil fuels. This is, in a limited way, true. Wood is a renewable resource, and if it is properly managed, it can be a carbon-neutral source of energy. But burning wood in high-density areas poses a different sort of problem. When wood burns, fine particulate matter is released into the air — you see this, and smell it, as smoke. Inhaling smoke has health consequences when you do it enough, including irritating your eyes and lungs. Wood burning also releases chemicals into the air as a result of incomplete combustion, many of which are toxic and some of which are proven carcinogens. If you live in a perpetually smoky environment, it can have similar health consequences to a cigarette habit.
In rural areas, effects of wood burning tend to be mild, because people and their fires are spread out over a large area. But in cities, a high level of wood burning can very quickly become a public health problem. Special stoves that burn at high heat do a better job at keeping unwanted compounds out of the air. That will work for home heating, but if you're making pizza, nothing really beats that wood-fired taste. It is possible to limit the negative air quality effects by installing filters that clean the particulate matter out of the smoke, and if things get much worse in São Paulo, that's something the city might have to consider.