Here Are the Best Tallest Buildings in the World
The Council on Tall Buildings and Urban Habitat reconvened for the 15th time to dish out awards for the best tallest buildings in the world.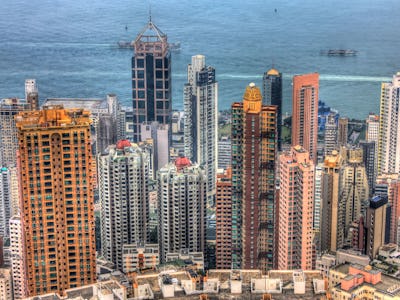 Flickr/Yinan Chen
Even for those who don't follow modern architecture, there's something undeniably impressive about an extremely tall skyscraper. While modern architects certainly push the boundaries of architecture in all kinds of ways — designing energy-efficient buildings or exploring innovative construction materials, for example — it seems that the race to construct the tallest building in the world will always be an important part of the architectural agenda. That's why the Council on Tall Buildings and Urban Habitat hosts the Tall Building Awards: to celebrate the tallest and most magnificent buildings in the world!
For this year's 15th edition of the Tall Building Awards, a panel of architects with hefty credentials considered over 100 submissions from four regions: the Americas, Asia and Australasia, Europe, the Middle East, and Africa. Judges were specifically looking for "those that have the greatest positive impact on the individuals who use these buildings and the cities they inhabit," reports Arch Daily.
Bjarke Ingels Group's VIA 57 West in New York City, completed in 2016, took home the prize for Best Tall Building in the Americas, beating other notable contenders such as Rafael Viñoly Architects' towering and slender 432 Park Avenue apartment complex in New York and Gensler's Tower at PNC Plaza in Pittsburgh. Michael Palladino of Richard Meier and Partners Architects praised VIA 57 West's combination of "the traditional courtyard block and high-rise tower" that supplies incredible views of the Hudson River and introduces a new approach to urban infill development.
Gensler's Shanghai Tower, the second tallest building in the world standing at 2,073 feet completed at the end of 2015, was awarded the Best Tall Building award in the Asia and Australasia category, with the Executive Director of the CTBUH Antony Wood pointing to the building's double-skin facade ventilation strategy as proof that the "aspirations for Shanghai Tower went far beyond mere commercial gain."
Wood also noted the mega-tall skyscraper's admirable resolve to create communal space in a tall building, which he hasn't seen executed as seamlessly since Frankfurt's Commerzbank Tower was completed in 1997.
In the European category, Jean Nouvel's White Walls in Nicosia, Cyprus, completed in April 2015, took home the gold among other submissions including FXFOWLE's Allianz Tower Istanbul and Coop Himmelblau's European Central Bank in Frankfurt, Germany. The panel of judges recognized Nouvel's White Walls tower as an exemplary combination of vertical landscaping and tower architecture, which enforces environmental sustainability through an important connection to nature. White Walls boasts vegetation on its north facade and a loggias — a covered exterior gallery or corridor — on the south facade, while local plant species poke out of the "tower's punctured concrete walls."
Orange Architects' residential tower The Cube in Beirut, completed in October 2015, took the prize for Best Tall Building in the Middle East & Africa category, beating the only other finalist, the ovoid-shaped Iris Bay by Atkins in Dubai. The Cube's iconic stacked aesthetic offers a unique alternative to the "box typology" approach that characterizes most residential high-rises around the world, according to juror Hashimah Hashim. Hashim also praised the implementation of framed girder walls, which enhance the building's visual appeal and "allow for completely unobstructed floor plans."