The Fall Out Boy 'Ghostbusters' Song Is a Dubstep Reimagining of the Original
I'm not afraid, but maybe I should be.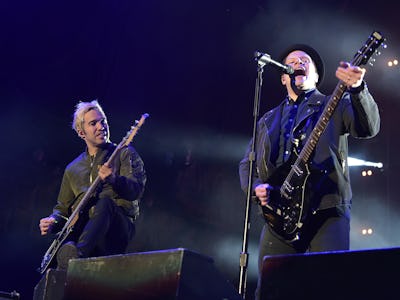 Getty Images / Theo Wargo
The soundtrack for the Ghostbusters reboot offers your favorite-band-from-nine-years-ago, Fall Out Boy, who have put together what can only be described as a dubstep reimagining of Ray Parker Jr's original theme song.
Paul Feig's Ghostbusters has caught a lot of flak from wounded man-babies angry that the updated all-female version of the 1984 original is somehow ruining their childhoods. That is, in so many words, incredibly stupid. And the fervor behind the rampant sexism about it unfortunately masks the real reasons fans should be a bit concerned that the ghostly reboot starring Kristen Wiig, Leslie Jones, Kate McKinnon, and Melissa McCarthy looks like it'll pale in comparison to the original. We've got awful CGI ghosts that look like they're straight out of that terrible live action Scooby Doo movie, deeply unfunny jokes that are out of place for comedians of that caliber, and now, a questionable reworking of the iconic theme song.
Granted, Parker's catchy original just pretty much ripped off Huey Lewis and the News, so it wasn't anything groundbreaking. But we're not exactly sure what this is.
Have a listen below:
Missy Elliott's nanosecond-long verse tries to save it, but the lazy co-opting of "I ain't afraid of no ghosts" into the overly simple "I'm not afraid" makes it all just really bland.
Here's the original for comparison:
Thankfully you can mash them together and have both of them wash over your headspace for optimum catchy as hell headaches. I'm definitely afraid of that.
Mostly, you're better off listening to Elle King's soundtrack single "Good Girls," or Run-D.M.C.'s own re-tooling of the theme for Ghostbusters II.
Feig's Ghostbusters hits theaters on July 15.