'Dogs at Polling Stations' Is One of the UK's Weirdest EU Referendum Memes
The UK's cutest internet tradition is back.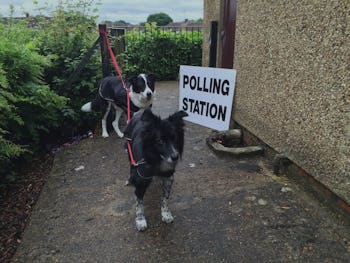 Mole Valley District Council/Twitter
Since Twitter's launch in 2006, some very strange memes have cropped up. One of these is the British tradition of taking a picture of your dog on election day, pretending like he's ready to vote, when really he doesn't have a clue what's going on because he is a dog. Thursday's referendum on whether the country should leave the European Union is no different.
#Dogsatpollingstations has become something of a staple for UK democracy. In the May 2015 parliamentary election, furry voters came out in their droves to put a paw on their ballot paper. Unfortunately, spoilsports at The Mirror informed readers that dogs aren't allowed to vote as they are dogs.
In the May 2016 local elections, some noted that the dogs at polling stations were more interesting than the elections themselves. Outside of London, English council elections rarely make national news. The dogs didn't seem to care, though. They were just glad to be taking part in a centuries-old democratic process.
This dog managed to get inside the polling station. Usually, local public places like schools are used for voting, although there are cases of weirder venues like pubs, swimming pools, caravans, and laundromats.
A dog is for life, not just for polling day.
Floyd, apparently, managed to register before the online registration form collapsed.
County Durham, in the English north east, is trying something a little bit different.
Hey, that's not a dog!