South Pole Rescue Flight Lands Safely Back in Rothera, Antarctica
The worst is behind them.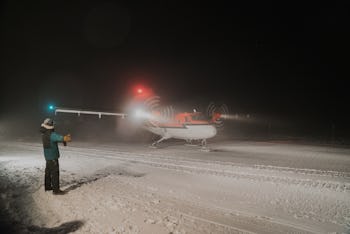 Robert Schwarz/NSF
The rescue crews involved in a daring South Pole rescue mission are surely either celebrating or sleeping right now, after successfully completing a 10-hour flight from Amundsen–Scott South Pole Station to Rothera Station on the Antarctic Peninsula. National Science Foundation spokesperson Peter West confirmed to Inverse that the Twin Otter plane landed at 1:15 Eastern time on Wednesday.
The mission was ordered more than a week ago in order to evacuate a staff member of the research station who required medical care beyond what could be provided on site. After some deliberation, a second unwell staff member also boarded the return flight.
While the sick employees of NSF contractor Lockheed Martin have yet to reach hospital care, they have successfully completed the first return flight. Antarctica is currently in the depths of winter, and the sun will not rise again at the South Pole until September 20. Temperatures at the pole were about -58 Fahrenheit during the rescue, and winter storms could have easily derailed the rescue plan.
The weather at Rothera is comparatively balmy. Thanks to its coastal location, the current temperature is 27 degrees. While the sun will not peak above the horizon for about another week, the station does experience a period of twilight at midday even at winter's darkest point.