California's 4 Future Cities
The Golden State can't stop reinventing itself.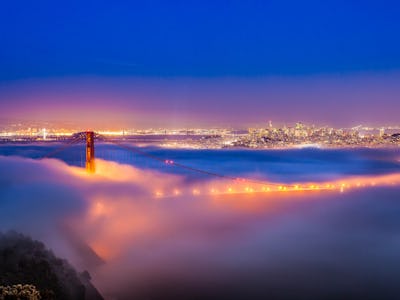 Anthony Quintano
California has earned its reputation as a state for dreamers. In the 19th century, people came for gold. In the 20th century, they came for the bubbles and for Hollywood and to search for new utopias. That hunt is woven into the state's very motto: "Eureka," which comes from the Greek heúrēka, meaning "I have found it!" And plans for new, cutting-edge communities continue to sprout up like marijuana plantations in Mendocino county.
Some succeed, but, due in part to strict environmental regulations, most do not.
Still, planned communities don't need to exist to be fascinating. California's current crop of hypothetical towns speaks to the changing nature of the future Californians want, the pressures they face, and what they think their state can (and should) become.
They are all, unsurprisingly, optimistic visions.
Can you afford to live in San Francisco? Didn't think so. But there could be hope yet. Treasure Island is a manmade plot in the middle of the San Francisco Bay. It was originally constructed in the 1930s for a World's Fair and to commemorate the Golden Gate and Bay bridges, but during World War II it was repurposed as a naval base. At the turn of the millennium, the Navy sold Treasure Island back to the city, and redevelopment looked like it was on the horizon. Several deals fell through. Now, development is at last underway. But it's going to cost about $6 billion.
That's a lot, especially considering that, thanks to the Navy, the land could be toxic.
Quay Valley is a man named Quay Hays's dream. Located in Kings County, midway between San Francisco and Los Angeles, these 13,000-plus acres are supposed to be a futuristic, fully solar-powered town — not unlike Florida's Babcock Ranch. The project's had a run of bad luck, but the goal is that it one day give homes to 75,000 or more people.
Despite overwhelming odds and mixed reviews, Quay Valley could actually come to exist. Hyperloop Transportation Technologies wants it to be home to its first, small-scale hyperloop, and powerful interests may want to ensure that it happens. It's a marketable combo: a solar town with the most futuristic transportation known.
This one goes all the way back to the 1980s. Ever since its conception, this north-L.A. project's proven controversial. Agencies have called land usage rights into question; others have raised concerns about endangered species and environmental effects. Nearby towns have done their best to kink development. The website makes no mention of this tumult, but optimistically employs the future tense: "Newhall Ranch… will be a sustainable new town thanks to its balanced approach and focus on all aspects of life."
We'll believe it when we see it.
This final development is supposed to be just south of San Francisco — in, of course, Brisbane. According to the project's developers, it's where San Francisco dumped its rubble after the 1906 earthquake. Over 500 acres remain unused, but for good reason: the land is very contaminated, apparently so much so that it's unsafe to live on.
Still, unused land in San Francisco's vicinity represents a lot of potential value for developers, so some people have tried to make it into something profitable. One development company has awaited approval for the last ten years, and expects to find out in 2017 whether they'll be allowed to proceed with construction. They're currently estimating that decontamination will cost $200 million.